No Man's Sky getting cross-platform multiplayer support this Thursday
Out on Xbox and PC Game Pass at the same time.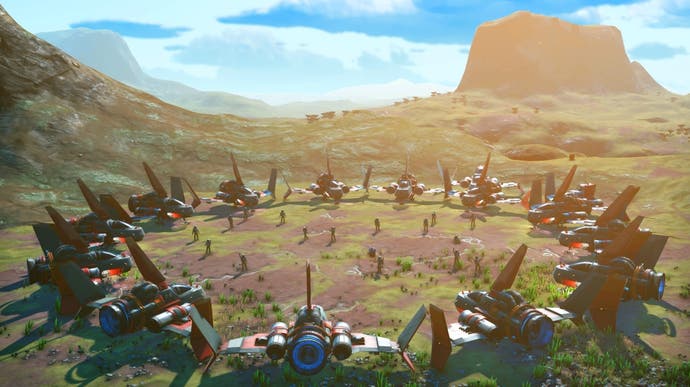 Back in May, Hello Games announced its ever-expanding space sim No Man's Sky would be making its way to Xbox One and PC Game Pass this month, and that window has now narrowed even further, with launch now scheduled for Thursday, 11th June. But that's not all!
Alongside No Man's Sky's Game Pass debut, the intergalactic exploration adventure - which has swelled to include the likes of organic spaceships and big stompy mechs in the last few months alone - will also be receiving cross-platform multiplayer support.
"Over the past six months," explained Hello Games in its announcement, "we have been quietly reworking the networking back-end of the game to get all versions of the game onto one single multiplayer base". To that end, players from all platforms - whether on Xbox One, PlayStation 4, Steam, GOG, Windows 10, or in VR - will be able to meet in No Man's Sky's Nexus to take on missions or simply explore the universe together, starting tomorrow, 11th June.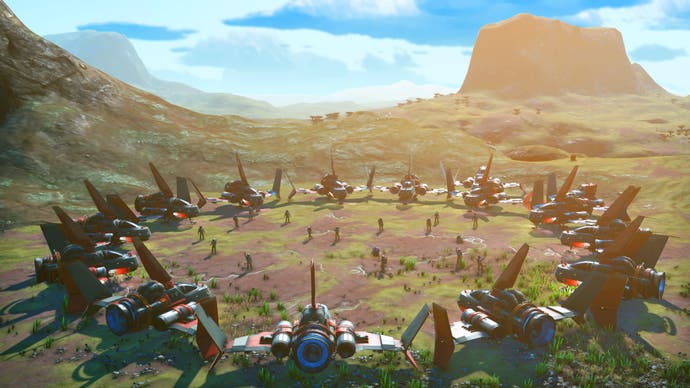 "Making No Man's Sky available to vast new audiences, and allowing those audiences to come together, has been something we've been building towards for a long time," Hello Games wrote, "We're lucky to have one of the nicest and most welcoming gaming communities there is, and it's a delight to be able to allow them to play together."
In addition to cross-platform support, Thursday's update promises a number of other multiplayer enhancements, including improved lobbies, speech to text, and better fireteams - and they'll be accompanied by VR tweaks and more general quality of life improvements, all of which are detailed in No Man's Sky's latest patch notes.
Hello Games says this week will mark "the first major moment of what will hopefully transpire to be an eventful summer for us and for the No Man's Sky community".