No Man's Sky launched without multiplayer on GOG
UPDATE: GOG now offering refunds.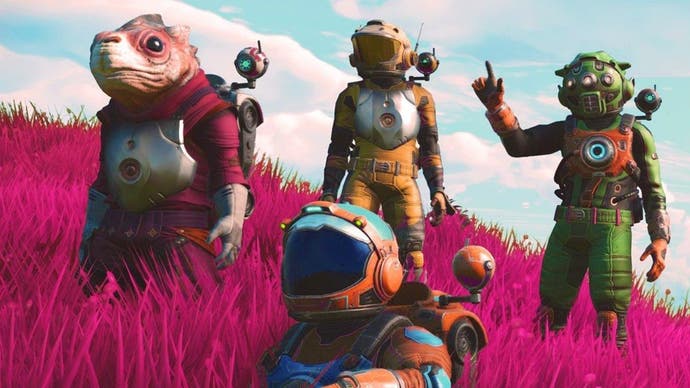 UPDATE 9.30pm: Following this morning's news that the GOG.com version of No Man's Sky won't be getting the NEXT update's much-touted new multiplayer features until "later in the year", the retailer has announced that it's now offering refunds to those affected.
In a post on its website, GOG said, "We know that many of you expressed disappointment about the lack of the new multiplayer feature in the latest update to No Man's Sky on GOG.COM. While we have limited control over games and content updates, we want you to have the best and risk-free experience possible when you buy a game on GOG.COM."
GOG continued, "Although Hello Games chose not to offer refunds over missing game content to our users and instead promised to bring the missing multiplayer content later this year, we understand that some of you might not be willing to wait."
According to its Money Back Guarantee Policy page, GOG itself ordinarily does not offer refunds on a game unless it "doesn't work and our team of expert Support staff can't solve the problem for you". Refunds are also only permitted within 30 days of purchase.
However, the retailer has now pledged to offer an "extended refund policy for all owners of No Man's Sky", even those that purchased the game outside of the normal 30-day window - although refunds will be issued in the form of GOG wallet funds.
To take advantage of the offer, No Man's Sky owners must request the refund through GOG's customer service team by Sunday, July 29th at 10:00 PM UTC.
---
ORIGINAL STORY 11.30am: Reborn space sandbox No Man's Sky yesterday dropped its huge NEXT update which added full-blown multiplayer to the game. Except, it turns out, if you buy it from GOG.com.
The DRM-free version of No Man's Sky available via GOG - as opposed to the Steam version, or the PlayStation 4 or Xbox One editions - is single-player only for the forseeable future.
When will GOG.com customers get multiplayer? A joint statement from the retailer and No Man's Sky developer Hello Games could only pin it down to "later this year".
Here's the statement in full:
"From launch, the DRM-free edition of No Man's Sky will include all single-player content introduced by NEXT: third-person mode, upgraded visuals, better base building, player customisation, and more.
"However the multiplayer component will not be ready at launch; we expect it to be released later this year as full multiplayer parity remains in the pipeline.
"For a small, independent studio, developing the feature across multiple platforms is a hugely ambitious and technical challenge which resulted in this delayed release. Hello Games is however joining forces with GOG.COM to introduce full multiplayer via the GOG Galaxy platform.
"We appreciate your immense support and patience."
The statement was posted to GOG's official forum 11 hours ago - about midnight UK time on the day of NEXT's release. Responses to the statement - to put it lightly - suggest GOG customers would have appreciated more of a heads up.
It's a shame - as otherwise No Man's Sky NEXT is a transformative addition to the game, and for the future of Hello Games' sci-fi universe.