No Man's Sky is adding big stompy mechs for land and air traversal in today's update
Robots in da skies.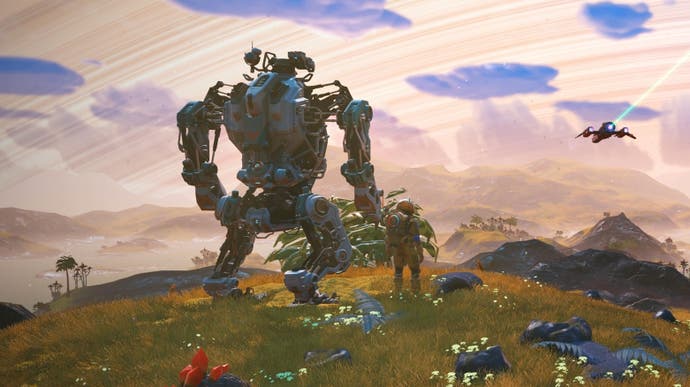 It's been around seven months since No Man's Sky launched its game-changing Beyond update, yet Hello Games' ever-expanding space sim still shows no signs of slowing. Since then, it's swelled with weird space landmarks and weekend community events, living ships and dashboard bobbleheads, even a music creation tool. And now: Exo Mechs.
No Man's Sky Exo Mech Update arrives today, 7th April, and ushers in the new Minotaur Exocraft. This hulking metal beast is described as an pilotable exocraft/suit hybrid and is designed to introduce a new, potentially more liberating means of planetary exploration.
Once suitably ensconced in the cheerily chunky Minotaur, travellers can explore terra firma with a satisfyingly hefty stomp, completely immune to all hostile environmental effects, including radioactivity and extreme temperatures.
Its stand-out feature, though, is its jetpacks, enabling players to leap and drift majestically through the air - scanning the vast expanse of earth below from the comfort of its cosy cockpit if they so choose - before slamming back down with an elegant plop.
In addition to the Minotaur Exocraft, No Man's Sky's latest update introduces enhancements for the existing fleet of exocraft - including solar panels for easy engine recharging during daylight - as well as various other visual improvements, bug fixes, and quality of life changes. Players can now, for instance, build an Electrical Cloaking Unit to hide all unsightly power lines within their base. A full list of incoming features can be found in Hello Games' patch notes.
And for those yet embark on their own space adventure across No Man's Sky's vibrant procedurally generated universe, there's currently 50% off via Steam and GOG. It's also £14.99 on the PlayStation Store and £19.99 on Xbox if you have a Live Gold subscription.