Nintendo's next smartphone game is a big surprise
UPDATE: And now there's a trailer.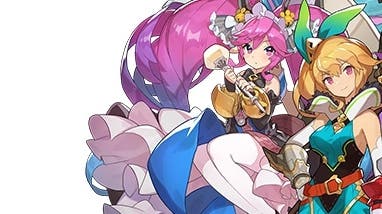 Update, 4.30pm: Following on from Nintendo's reveal of Dragalia Lost earlier today, a new trailer has emerged, offering a brisk look at the smartphone fantasy RPG, co-developed by Cygames, in action.
The trailer's primary focus is on scene-setting and ambience, but it does include a few snippets of gameplay. In among the fully voiced cut-scenes and anime flourishes, there's a glimpse at exploration in Dragalia Lost, and what appears to be an action-RPG-style battle system.
That's still not a whole lot to go on admittedly, but with Dragalia Lost's release pencilled in for this summer, there's still plenty of time to get the marketing wagon rolling in earnest.
---
Original story, 11.18am: Nintendo has announced a surprise new addition to its smartphone game release schedule: Dragalia Lost.
If the name doesn't sound familiar... well, it shouldn't. Dragalia Lost is a new action role-playing game co-developed with Japanese developer Cygames, of which Nintendo has bought a small stake. Artwork for the game shows a colourful, anime style.
Little else is known about the smartphone RPG, except that it will arrive at some point this summer. There's been no mention of whether the game will be a paid release or free-to-play. Mario Kart Tour, Nintendo's other upcoming smartphone release, sounds like it will arrive afterwards, but still in 2018.
Dragalia Lost will mark the first time Nintendo has debuted a new franchise on smartphones. Earlier releases have all been tied to existing ideas or franchises: Miitomo, Super Mario Run, Fire Emblem Heroes and Animal Crossing: Pocket Camp. Here's hoping Dragalia Lost's microtransactions aren't quite as greedy.