Nintendo's having a bit of a local-multiplayer-themed eShop sale on Switch
Captain Toad! Tropical Freeze! Windjammers! More!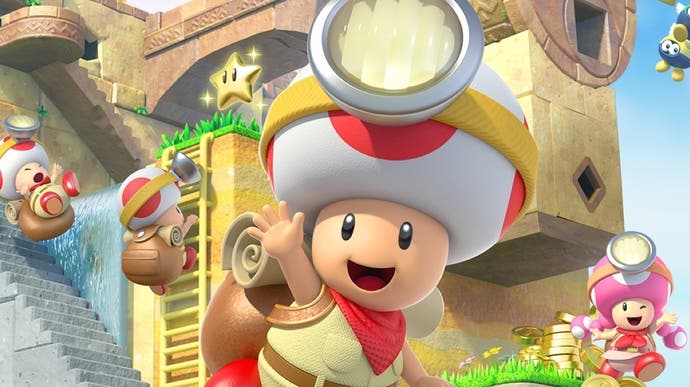 If you're a Switch owner with access to at least one friend, family member, or even an unusually accommodating stranger, then Nintendo UK's latest eShop discount bonanza, the (mostly) local-multiplayer-themed Play Together Sale, might be of interest to you.
As usual, Nintendo itself isn't exactly going wild when it comes to discounted first-party offerings, but the two games included in the sale are good 'uns, with the sublime Donkey Kong Country: Tropical Freeze reduced to £33.49 (from £49.99) and Captain Toad: Treasure Tracker at £24.49 rather than the usual £34.99.
Elsewhere, you can get your loot on with Diablo 3: Eternal Edition (£34.99 down from £49.99), whip yourself into a frenzy of blob/block matching in Puyo Puyo Tetris (£20.99 instead of £34.99) or conquer the world in Civilization 6 (£35.99 down from £44.99).
Capcom's all over the sale too, and you'll find discounts on Resident Evil Revelations 1 & 2 (now £9.59 and £11.99 respectively), Street Fighter 30th Anniversary Collection (£31.49 from £44.99), Ultra Street Fighter 2 The Final Challengers (£17.49 from £34.99) the Capcom Beat 'Em Up Bundle (£12.79 instead of the usual £15.99), Monster Hunter Generations Ultimate (£34.99 from £49.99), plus all four Mega Man Collections and Mega Man 11 at various prices.
Moving away from the big publishers, there's a decently broad selection of indie pickings to be found. Sundered: Eldritch Edition (a wonderfully tense Lovecraftian Metroidvania) is, for instance, £10.84 down from £15.49, Guacamelee 2 and TowerFall are £12.59 from £17.99, and Crypt of the NecroDancer is £3.59 from £17.99. Co-operative wizard-'em-up Nine Parchments is £5.39 from £17.99, Portal-esque co-op puzzler Death Squared is £8.39 from £11.99, and frisbee-tossing retro classic Windjammers is £9.44, down from £13.49.
Discount lovers can check out a slightly more comprehensive list of games included as part of the Play Together Sale over on Nintendo's website. However, it currently seems a little incomplete, so it might be preferable to fire up the Switch eShop and have a browse yourself.