Nintendo NX is "new hardware with a brand new concept"
It's a "dedicated game system". More next year.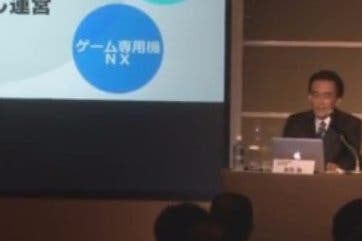 UPDATE: Here's Iwata's quote on the NX, translated officially by Nintendo:
Also, Iwata said Nintendo's new membership service would play a key role in NX.
ORIGINAL STORY: During a press conference in Japan Nintendo boss Satoru Iwata mentioned new hardware, codenamed NX.
The press conference was held to announce a partnership between Nintendo and Japanese mobile game specialist DeNA to create mobile games based on Nintendo's intellectual property.
Nintendo also plans to create a new membership service, with DeNA, that will work across all Nintendo hardware, mobile devices and PC.
It was while announcing this new membership service that Iwata mentioned the new NX hardware.
Here's the direct quote from Iwata, which we captured and published in video form below.
"Nintendo, together with DeNA, will jointly develop a new membership service, which encompasses the existing Nintendo 3DS, Wii U, the new hardware with a brand new concept NX, smart devices and PCs."
At this stage it's hard to tell what the NX is, exactly, but in an image published on Nintendo's official website, it's described as a "dedicated game system", which suggests a home console of some kind. We're told more information will be revealed next year.