Nintendo: "no plans" to launch any other model than Switch OLED
"At this time."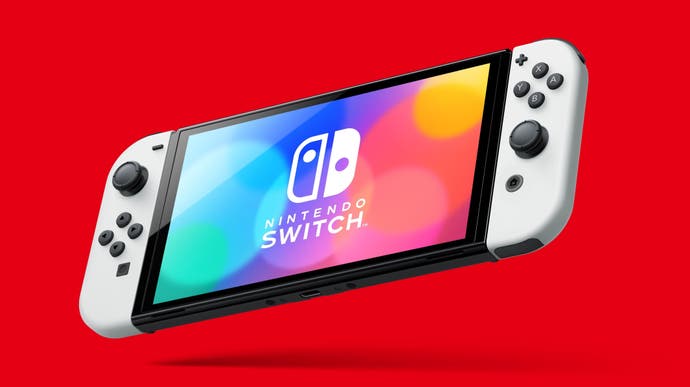 Nintendo has taken the unusual step of responding to a recent Bloomberg report on the upcoming Switch OLED.
Bloomberg, which led reporting earlier this year on the upcoming Switch remodel, reported last week that the OLED model was being priced higher to give Nintendo a better profit margin compared to the original Switch. Without naming Bloomberg, Nintendo issued a rare tweet to state "the claim is incorrect".
Nintendo went on to clarify that, beyond Switch OLED, it had "no plans for launching any other model at this time", pouring cold water on the suggestion a further new model might be in the works.
Back in March, Bloomberg accurately described Switch OLED's improved screen size and type, as well as its launch window. That report also stated it would support output in 4K.
In a follow-up report in late May, Bloomberg then stated the new model would be revealed ahead of E3, something Eurogamer understood to be accurate at the time as well, before going into production in July.
Some have suggested the fact Switch OLED ultimately does not have a 4K output - as well as the fact its original pre-E3 announcement window was reported - prompted Nintendo to shuffle the console's announcement plans back.
We also want to clarify that we just announced that Nintendo Switch(OLED Model) will launch in October, 2021, and have no plans for launching any other model at this time. (2/2)

— 任天堂株式会社(企業広報・IR) (@NintendoCoLtd) July 19, 2021
Whether or not it was accurate at the time of being reported, Bloomberg's detail on a 4K output for the new Switch set fan expectations for the new model, then dubbed Switch Pro.
Others have suggested Switch OLED's lack of 4K means the feature is now being saved for a beefier remodel, due for release down the line.
While Nintendo's comments on Switch OLED and the recent reporting surrounding the console are unusual, it's perhaps not unexpected to see the company keen to clarify for its shareholders any report which could impact Nintendo's share price or bottom line.
And in saying there's no other new Switch on the horizon, Nintendo is doubling down on its support for Switch OLED. Don't hold out for another model, Nintendo is effectively telling fans.
As for the future of Switch, it's worth remembering two things. Firstly, Nintendo is never drawn on its future plans for new hardware until it is ready to talk about them - and especially if it has another model yet to go on sale first.
And second, Nintendo updated the 3DS with the XL, 2DS, New 3DS and New 3DS XL, then finally the New 2DS XL over the course of its long lifespan. It would be odd if Nintendo Switch didn't see another new model at some point.