Nintendo Network for Wii U and 3DS revealed
Nintendo's answer to PSN and XBL.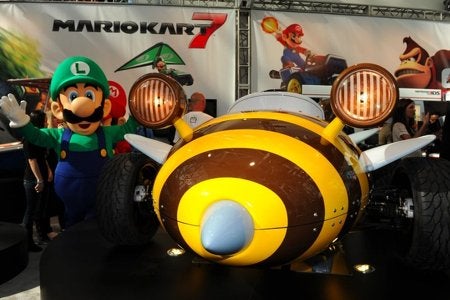 Nintendo has pulled the curtain back on the Wii U's online functions, announcing its new Nintendo Network.
This is different than the much-maligned Nintendo Wi-Fi Connection that governs previous Nintendo hardware, and is designed to cover both the 3DS and Wii U. Indeed we've seen it in action already in Mario Kart 7's online functions.
"Unlike Nintendo Wi-Fi Connection, which has been focused upon specific functionalities and concepts, we are aiming to establish a platform where various services available through the network for our consumers shall be connected via Nintendo Network service so that the company can make comprehensive proposals to consumers," Nintendo boss Satoru Iwata said.
"For example, competitions and communication among users, as well as the sales of digital content, will be covered within the Nintendo Network."
Nintendo Network includes a number of features Xbox 360 and PlayStation 3 gamers will be familiar with, including add-on content sales, the digital distribution of boxed games and, in the case of Wii U, the introduction of personal accounts.
The personal account system is designed to help gamers share the same Wii U. "With this, for example, the ease of using a video game system when the hardware is shared by multiple family members, which has been a challenge we needed to tackle, shall be improved, and we will also be able to construct and offer the system by combining a variety of different services and content," Iwata said.
"Whether it's our first-party titles or third parties' titles, for a number of games, we will actively attempt to achieve compatibility so that our consumers can enjoy our online services that we will deploy under the name of the Nintendo Network."
On the digital distribution of boxed games: "This concept was built into the design of the Nintendo 3DS, and we already have the necessary infrastructure," Iwata explained.
"We will prepare the same infrastructure for the Wii U. However, we have not decided the concrete timing of when we will start it. The decision must be made by taking into consideration such factors as the relationship with the wholesalers and retailers, and the best way to be embraced by consumers, as well as the environment surrounding the market and consumers, such as the required memory capacity on consumers' SD memory cards.
"However, as an option for the future, the significance of this business field will increase."
On the DLC side, Japanese 3DS game Tobidasu Pricla Kiradeco Revolution is the first for which gamers can buy add-on content for a boxed game. Final Fantasy spin-off Theatre Rhythm is the first game to sell music as DLC.
"While we are on this subject," Iwata added, "when we discuss anything relating to add-on content, our remarks are very often reported by the media by their attaching such modifiers or notes as 'the ones used for social games.'
"Please note that Nintendo, as a software maker, does not plan to deploy businesses where our consumers cannot know in advance which item will appear as the result of their payment and they have to repeat the payments and, before they know it, they end up spending a huge amount of money in order to obtain the items they originally wanted to purchase.
"As a software maker, Nintendo believes that its packaged software should be sold to our consumers in a form so that the consumers will know in advance that they can enjoy playing the software they purchased just as it is.
"We believe that our consumers will be able to feel more secure if we offer our add-on content as an additional structure in which those who love the game will be able to enjoy it in a deeper way for a prolonged play time."
Nintendo Network uses the NFC (Near Field Communication) function in the tablet controller to enable micropayments.
This will let Wii U owners create cards and figurines that can electronically read and write data via non-contact NFC - a bit like Activision's Skylanders toy and video game sets.
Meanwhile, Iwata said Nintendo will ensure the Wii U will shine at launch, set for Christmas 2012, and avoid the mistakes made with the launch of the 3DS, which was criticised for a lack of compelling games.
"The company is aiming to firmly complete the development of the entire system and prepare sufficient software so that the Wii U will be at its best at the time of the launch," Iwata said.
"Needless to say, we have learned a bitter lesson from the launch of the Nintendo 3DS."
Become a Eurogamer subscriber and get your first month for £1
Get your first month for £1 (normally £3.99) when you buy a Standard Eurogamer subscription. Enjoy ad-free browsing, merch discounts, our monthly letter from the editor, and show your support with a supporter-exclusive comment flair!