Nintendo lists Wii U games line-up
Retail releases and eShop downloads.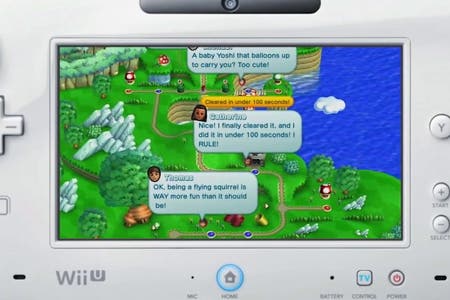 Nintendo has revealed a list of all Wii U titles revealed so far.
After yesterday's press conference there are no real surprises left on the list, although several digital Wii U eShop games are mentioned.
Nintendo is signed up to publish the most Wii U titles of any company on the list. That includes Pikmin 3, Game & Wario and the divisive Nintendo Land, as well as third-party games such as Ninja Gaiden 3 and Lego City: Undercover.
Ubisoft is the only other publisher to support the Wii U in real volume. The French publisher's Wii U schedule includes Assassin's Creed 3, ZombiU and Rayman Legends.
Arty 2D side-scroller Chasing Aurora and a director's cut of Trine 2 headline the Wii U's initial digital offerings. There's confirmation of Gaijin Games' Runner 2 as well, which was strongly hinted to Eurogamer earlier this year.
All titles are listed by Nintendo for a "holiday" 2012 release.
Retail games:
NBA 2K13 (2K Sports)
Ben 10: Omniverse (D3Publisher)
Family Party: 30 Great Games (working title) (D3Publisher)
Rise of the Guardians: The Video Game (D3Publisher)
Mass Effect 3 (EA)
Jett Tailfin (Maximum Games)
Tank! Tank! Tank! (Namco Bandai)
Tekken Tag Tournament 2 (Namco Bandai)
Lego City: Undercover (Nintendo)
New Super Mario Bros. U (Nintendo)
Ninja Gaiden 3: Razor's Edge (Nintendo)
Nintendo Land (Nintendo)
SiNG (working title) (Nintendo)
Wii U Panorama View (working title) (Nintendo)
Game & Wario (working title) (Nintendo)
Pikmin 3 (Nintendo)
Project P-100 (working title) (Nintendo)
Wii Fit U (Nintendo)
Aliens: Colonial Marines (Sega)
Sonic & All-Stars Racing Transformed (Sega)
Darksiders 2 (THQ)
Assassin's Creed 3 (Ubisoft)
Just Dance 4 (Ubisoft)
Marvel Avengers: Battle for Earth (Ubisoft)
Rabbids Land (Ubisoft)
Sports Connection (Ubisoft)
Your Shape: Fitness Evolved 2013 (Ubisoft)
ZombiU (Ubisoft)
Rayman Legends (Ubisoft)
Scribblenauts Unlimited (Warner Bros)
Batman: Arkham City Armored Edition (Warner Bros)
Digital-only games:
Chasing Aurora (Broken Rules)
Trine 2: Director's Cut (Frozenbyte)
Runner 2: Future Legend of Rhythm Alien (Gaijin Games)
Aban Hawkins & the 1,001 Spikes (Nicalis)
Cloudberry Kingdom (Pwnee Studios)