Nintendo launching eShop for smartphones and PC by year's end - report
Take a look at what's in store. UPDATE: Nintendo responds.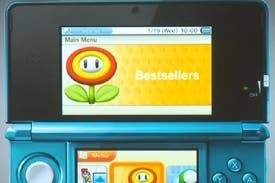 UPDATE: Nintendo has responded to the report that its eShop would soon be available via PC and smartphones, by pointing to a statement on the matter dating back to October 2011.
"Although this next feature is not going to be available with the next system update, we are now preparing for the Nintendo eShop to be available on the Web so that you can access it via PCs or smartphones too," the company said at the time.
Nintendo wouldn't be drawn on whether the feature would be available this year, however. "This is all the information that has been made available at present," a spokesperson told Eurogamer.
ORIGINAL STORY: Nintendo will allow you to buy digital versions of its games via PC and smartphone before the end of the year, a new report suggests.
The company has been talking of making a web version of its eShop available for some time - so too with Wii U social network Miiverse, which is now available.
You'll also be able to use your PC and smartphone to manage your Nintendo Network account, Japanese news website NicoNico reported (translated by Siliconera).
Nintendo hopes that by making the eShop available to everyone - whether they own a Nintendo system or not - more people will be tempted by the games on offer. It would also bring the eShop in line with Microsoft's Xbox Marketplace and Sony's PlayStation Store, both of which have allowed you to buy content via the web for some time.
Digital sales of Nintendo games rose by 150 per cent year-on-year, the company reported in this morning's quarterly financial report.
We've asked Nintendo for more information on when this might be available in Europe.