Nintendo censors skimpy Xenoblade Chronicles X costumes in West - report
And raises character's age, too.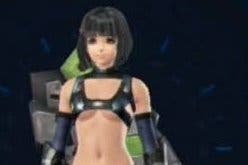 Nintendo has covered up a character's clothing in the Western version of Wii U role-playing game Xenoblade Chronicles X.
13-year-old Lin can wear nothing more than a skimpy bikini in the game's Japanese version.
Even disregarding the character's age, it's an eye-opening choice of outfit for an adventurer readying for battle.
Lin will be older, aged 15, in the game's international version. She also now wears shorts and a larger - although still fairly revealing - design of top.
The changes were spotted by Twitter user Teikage, who has access to both versions of the game (thanks, NeoGAF).
It's not the first time that Nintendo has altered costumes for a game's release outside of Japan. Last week it was revealed that Wii U horror Project Zero: Maiden of Black Water would also feature more appropriate clothing in its European launch.
Xenoblade Chronicles X launched in Japan back in April. It will finally arrive in Europe and North America on 4th December.
We've reached out to Nintendo for comment on the change.