Hip signs Blue 52's Stolen
Pariah and CT Special Forces publisher to release ambitious stealth-action title in March 2005 on multiple formats.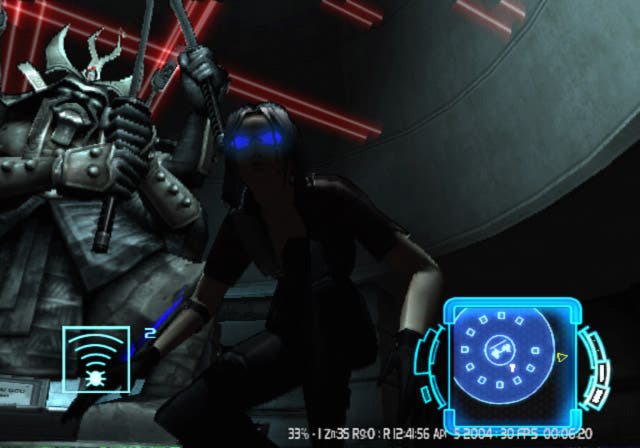 Hip Interactive has acquired the worldwide publishing rights to Stolen, the third-person action game two-and-a-half years in the making at Britsoft developer Blue 52. And although reports last August linked the game to Sony Computer Entertainment Europe as a potential PS2 exclusive, Hip says Stolen is multi-format.
Which formats those will be remains to be seen (although Blue 52 is known to be working on PS2, Xbox, Cube and PC at its office in Camden Town, London), but Hip is pointing to a March 2005 worldwide release for the title, which is described as an "ultra realistic, third person, stealth-based action game based around a high-tech female thief".
The thief in question will call upon all sorts of high-tech gadgetry, tools and weapons to break into and out of "movie-like locations" and pinch various things she shouldn't. And apart from a solid grounding in tracking devices, sonic visors (shrug) and traversal equipment, she's also a dab hand at the old martial arts, which ought to come in handy.
When the game was originally mooted last August, the talk was about the technology at its core more than anything else, with some reports speculating that Stolen was more about technology than gameplay, despite creative director Craig Leigh's comments to the contrary. "We have one of the strongest design departments in the business and would only look to technology to enhance the gameplay experience," he said at the time.
Nevertheless, Hip reckons the technology is one of the game's key assets, with advanced lighting techniques and volumetric shadows to hide in, impressive character animation and such. For the moment though we only have four screenshots to go on, which arguably look a bit Splinter Cell-esque, particularly one featuring a lock-pick mini-game. An MGS-style radar mini-map is also visible.
Still, Hip is clearly very excited about its new find, and according to its press release the publisher owns all the rights to the game and the property, "seeing it as a long-term intellectual property which should be followed by sequels." As soon as we hear more about Stolen, we'll let you know whether it's onto something.