Newell: Valve wants its games "more baked" before revealing them
"We're acutely aware of how much we annoy our fans."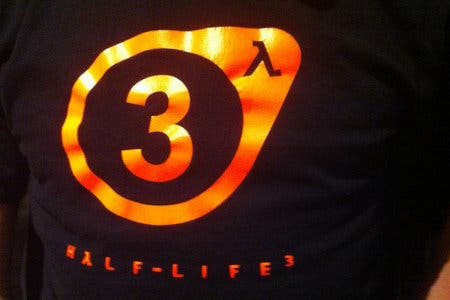 As the wait for news on the next Half-Life game goes on, Valve boss Gabe Newell has explained the famed developer's current strategy on revealing new titles.
Valve's experience with Half-Life and Half-Life 2 caused a rethink, leading the company to back off from talking about future games until they're good and ready, Newell told Penny Arcade.
"Part of the reason that we backed off talking so much about what was happening in the future is that when we've done that in the past, you know, with Half-Life 1 it was a year after we originally said it would be, Half-Life 2 basically if you go and read the forum posts apparently took us 50 or 60 years to get done, so we're trying to be careful not to get people too excited and then have to go and disappoint them.
"So we're sort of reacting in the other direction and saying, 'okay, well let's have things a little more baked before we start getting people all excited about it.'"
Valve's continued silence over the next Half-Life, be it Half-Life 2: Episode 3 or Half-Life 3, has frustrated many of its fans.
Earlier this month 10,000 Valve fans logged on to play Half-Life 2 en-masse in an attempt to make their campaign for more Half-Life information heard. It was the result of a Steam Group, called A Call for Communication (Half-Life), that is lobbying Valve to release more information on the future of the much-loved series.
"The lack of communication between Valve and the Half-Life community has been a frustrating experience. While continued support for current and future products is greatly appreciated, fans of the Half-Life series have waited years for a word on when the franchise will return," the group's description reads.
"We're acutely aware of how much we annoy our fans and it's pretty frustrating to us when we put them into that situation," Newell told Penny Arcade, while agreeing with the suggestion that there is tension between all the various projects the company is interested in doing.
"We try to go as fast as we can and we try to pick the things that we think are going to be most valuable to our customers and if there's some magic way we can get more work done in a day then we'd love to hear about it.
"But we recognize that it's been a long time whereas we have so many games that people really love - Counter-Strike, Half-Life, Portal, Left 4 Dead, not a whole lot of Ricochet enthusiasts out there, and at the same time we want to be making sure that those games and those stories and those characters are moving forward while also making sure that we don't just get into terminal sequelitis."
In June 2009 Newell said he had "very good reasons" for not discussing Half-Life 2: Episode 3, but refused to be drawn on them or when the developer would be able to open up about the concluding chapter in the FPS saga.
"I get a ton of email every day saying why aren't you talking about Episode 3? And there are very good reasons why we're not talking about Episode 3, which I can't talk about yet, but I will," Newell said at the time.
And last year, Newell told Eurogamer he wouldn't trade the "enthusiasm and straightforwardness of our fans for a quieter inbox".