New Super Mario Bros. 2 release date announced
Professor Layton, Inazuma Eleven and New Art Academy coming too.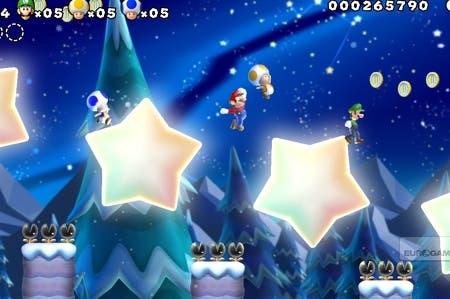 3DS platformer New Super Mario Bros. 2 launches in Europe on 17th August, just two days before its release in North America.
At the Nintendo Direct Conference this morning several other games were announced for Europe as well.
Chief among them is Professor Layton and the Miracle Mask, which will come out this October in Europe. This marks the dapper detective's first foray on 3DS. A new free puzzle will be added to the game every day for 350 days after launch. A new trailer is below.
Level 5's anime soccer RPG Inazuma Eleven is coming to Wii on 28th September. Released last year in Japan as Inazuma Eleven Strikers, this is the first game in the series for consoles. Rich Stanton awarded the previous game in the series a 7/10 in his Inazuma Eleven review.
Finally, New Art Academy will arrive on 3DS on 28th July to coincide with the 3DS XL launch. This makes sense, as the game contains lessons for sketching and painting, so the extra screen real estate seems like a big boon. The jury's still out on whether or not games are art, but they can teach art, evidently.