New Serious Sam 4 gameplay shows "thousands" of enemies on the battlefield
UPDATE: But Stadia exclusivity means Xbox and PlayStation wait til 2021.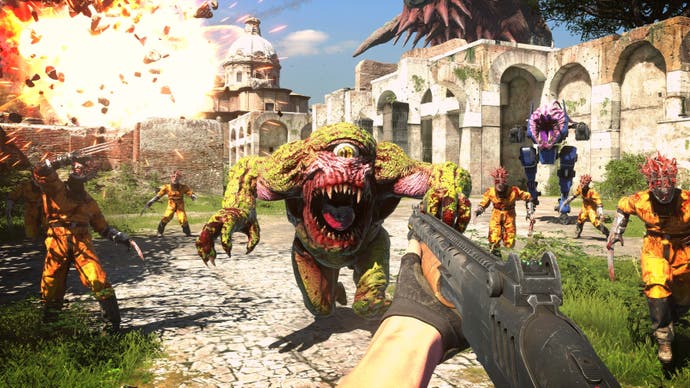 UPDATE 21/5/20: Serious Sam 4's PlayStation and Xbox versions will be held back until 2021 due to its timed-exclusivity on Stadia, publisher Devolver Digital has said.
The previously-announced PS4 and Xbox One editions were not mentioned alongside those for PC and Stadia when its August release was detailed, below. Now, a Devolver rep has revealed to Kotaku these will not see release until next year due to an exclusivity deal with Google's streaming console.
"The game is still coming to Xbox One and PlayStation 4 after its period of exclusivity is over with Stadia," Devolver said.
---
ORIGINAL STORY 20/5/20: Croteam's gun-wielding, quip-slinging multi-time saviour of the Earth, Sam "Serious" Stone, will return for another round of alien-slaying FPS mayhem this August, according to publisher Devolver Digital, in the form of Serious Sam 4. And while there's no exact release date to pop in your diary just yet, there's a bunch of new gameplay videos to tide you over.
Serious Sam 4 will be the first new main series entry in almost a decade, following on from Serious Sam 3: BFE's release in 2011, and it's been a long-time coming, having originally been announced back in 2014. Little was heard of Serious Sam 4's progress after that initial reveal until it resurfaced in 2018, and then it took another year for Devolver to finally give it a 2020 release window, which is slowly getting smaller following today's August launch reveal.
As for what Serious Sam fans can expect from the series' fourth outing (which appears to have lost its previously announced Planet Badass subtitle somewhere along the way), it sounds very much like more of the same, albeit with an emphasis on the more.
Returning enemies - including the likes of the Headless Kamikaze, Beheaded Rocketeer, Kleer, Scrapjack, and Werebull - are joined by new alien invaders, such as the Processed and Belcher - and Croteam promises "battlefields teeming with thousands of enemies", courtesy of its new Legion system, which gets a slightly intimidating airing in the video below.
More gameplay, should your eyes demand it, can be found by perusing Devolver's other developer videos, which are now available via Serious Sam 4's landing page on Steam.
In addition to Serious Sam 4's Steam release in August, it'll also be heading to Stadia. And if you need some warm-up Sam in the interim, the series is currently discounted on Steam.