New Play Control! Pikmin
Old Game Still Good!
The best thing you can say about New Play Control! Pikmin is that you'll have stopped thinking about its selling point within minutes of starting to play. The controls are so lucid and transparent, and the game itself is so absorbing, that your attention immediately goes elsewhere. Getting to grips with the original certainly wasn't this easy. But it's also fair to say that GameCube Pikmin did such a good job within the limitations of the pad - elegant control schemes and their synergy with game design being Miyamoto's chief genius, after all - that the difference between the two versions isn't as great as you might have thought.
Aside from the controls, Pikmin has been left virtually untouched by Nintendo. The controversial thirty-day time-limit remains, meaning it's possible to "fail" the game and have to start again from scratch if you don't find the 25 essential parts within that time. However, there is one important concession - progress (or lack of it) isn't set in stone, as it was in the original. You can now restart from an earlier day if a rampaging Bulborb or careless puddle-drowning causes a genocidal setback to your Pikmin populations, or if you simply feel you didn't make enough progress that day. In reality, that makes it highly unlikely that you'll need to restart.
With the pressure lifted and pointer in hand, Pikmin is a joy to rediscover. Visually it has aged a little, but not at all badly. The environments are plain, but they always were, the game's charm residing in its vast cast of bewitching and exquisitely animated creatures, the stylistic clash between the surreal and the mundane (clockwork space rockets and rusting tin cans), and best of all, the teeming swarms of the Pikmin themselves. Their naturalistic, funny and adorably eager crowd behaviour - from heedless bustle to panic, regimental order to slapstick stumbles - is as unpredictable and magical a sight now as it was in 2001.
The music is superb - a relaxing, soundscape lullaby - and the design is hard to fault, too. The simple characteristics of the three Pikmin types - red are strong, blue survive in water, yellow can use bombs and be thrown higher - balance perfectly against the level designs and the pleasing checks and balances of unit production and management. Pikmin left in the ground grow stronger, but subtract from the total available for use in the field; this can be circumvented with a nectar-feeding evolutionary shortcut; a low population of one type of Pikmin can be corrected by having them harvest more, but that leaves fewer of them available for active duty, and so on.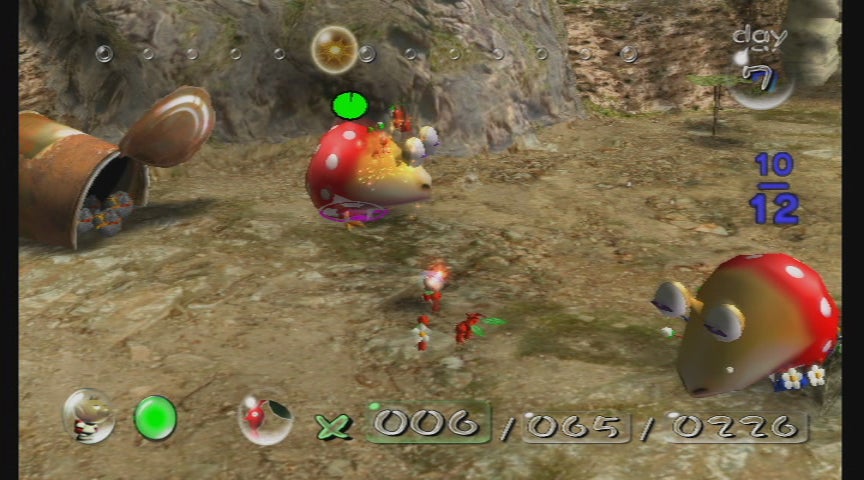 The game's self-sustaining equilibrium means assembling an optimum Pikmin squad is always interesting, but never threateningly critical. Rarely has a strategy game been so approachable, or so subtle. It's just a shame that it's over far too quickly. This is a short game, and arguably the friendliness of the new save structure gives it even less longevity than it had before.
Pikmin is such a one-off that it's as fresh as a walking, squeaking daisy now; fresh enough to make this reissue an exciting prospect for anyone who's never played it, or remembers it fondly but only vaguely. The structure; the dreamlike, 'In the Night Garden' atmosphere; Olimar's endearingly eloquent log entries; and the inverse wonder of its scale, the exciting sense of discovering new life under the microscope. In the last seven years, there's been nothing like it.
Only, of course, there has: its sequel. And this presents us with the biggest problem by far with this release. Pikmin 2 is also due a New Play Control! reissue this year, and it's a better game in every respect. It's longer and more sophisticated, with more varied Pikmin and enemy types; it has co-operative and competitive multiplayer; it has randomised caves with finite Pikmin numbers, ideal for the game's challenge mode; it has no time limit. It represents much better value, and we're hard-pressed not to recommend you hold off and buy that instead. That's almost a shame - because in truth, Pikmin is a minor classic, and this is the best version of it.
Will you support Eurogamer?
We want to make Eurogamer better, and that means better for our readers - not for algorithms. You can help! Become a supporter of Eurogamer and you can view the site completely ad-free, as well as gaining exclusive access to articles, podcasts and conversations that will bring you closer to the team, the stories, and the games we all love. Subscriptions start at £3.99 / $4.99 per month.