New GTA 5 PC patch fixes frame-rate issue
Updates may affect mods, Rockstar reminds players.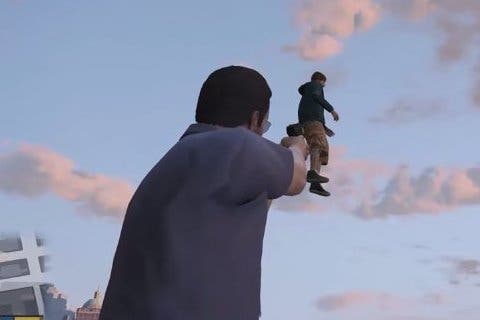 Rockstar has released a new patch for the PC version of Grand Theft Auto 5 that fixes a frame-rate issue caused by a previous update tied to GTA Online.
Some players had found that after updating GTA 5 to 1.28 on PC they were getting a considerably lower frame-rate while playing GTA Online. A title update just released fixes this issue, Rockstar said.
The developer took the opportunity to remind players about the situation with GTA 5 and mods. Reports from some players linked a decreased performance when using Story Mode mods to title update 1.28, sparking speculation Rockstar was clamping down.
In May Rockstar clarified its position on mods to the community following several reports of people being banned for using them. At the time Rockstar said its mod policy hadn't changed since Grand Theft Auto 4, and single-player mods were still acceptable to the developer, but those affecting the game's balance in multiplayer were a different story.
"Recent updates to GTA5 PC had an unintended effect of making unplayable certain single-player modifications," Rockstar explained at the time. "This was not intentional.
"We have always appreciated the creative efforts of the PC modding community and we still fondly remember the awesome zombie invasion mod and original GTA map mod for GTA 4 PC among many other classics.
"To be clear, the modding policy in our license has not changed and is the same as for GTA4."
Now, Rockstar has again addressed the issue, insisting it's not actively targeting players using mods in Story Mode, "nor are we explicitly implementing protections against them in-game".
"Our primary focus is on protecting GTA Online against modifications that could give players an unfair advantage, disrupt gameplay, or cause griefing. However, as a reminder, mods are still unauthorised and as such, Title Updates may cause Story Mode mods to behave in unexpected ways because they are not supported or tested, and players run them at their own risk."