New FIFA Ultimate Team 14 adds player chemistry styles
Boost attributes in FIFA's most popular mode.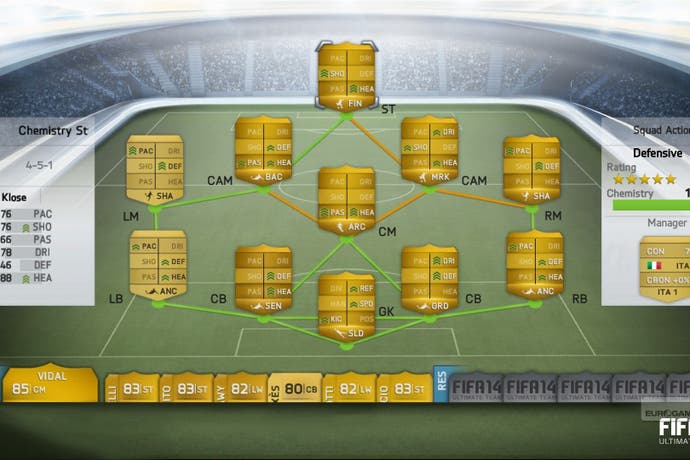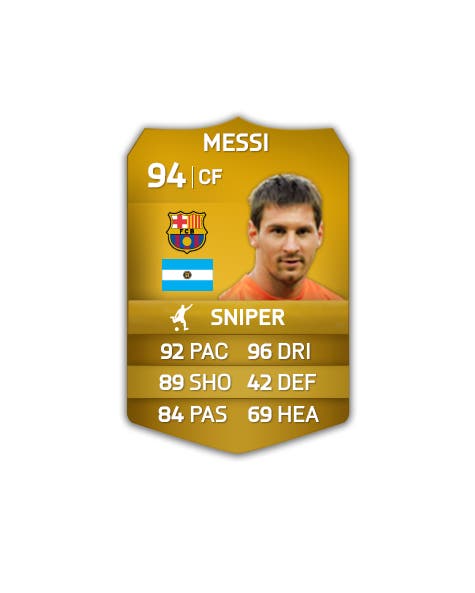 EA Sports has added a new player chemistry style system to FIFA Ultimate Team for the release of FIFA 14.
Each player has a chemistry style, which determines which attributes are affected as you gain boosts from team chemistry.
In previous versions of FUT, as you'd work your way towards a team chemistry score of 100, all player attributes would be slightly enhanced. Now, the system is more transparent. With the player chemistry style you can see which attributes are affected and by how much, based on the level of chemistry.
Barcelona forward Messi, for example, comes with the finisher chemistry style. Spurs winger Gareth Bale, on the other hand, has the engine chemistry style. EA Sports hasn't decided how many chemistry styles will be included at launch, but it's shooting for around 20. Expect prototypical chemistry styles for goalkeepers, chemistry styles for defenders that focus on strength, heading and defending attributes, midfielder chemistry styles that revolve around passing, and chemistry styles for forwards that improve pace and finishing.
To change a player's chemistry style you need to spend a consumable, which expires after use. These consumables are chase items, which means you can obtain them via FUT packs or from the transfer market, and there will be rare and common types, based on their likelihood of appearing in a pack.
The idea is that the system will present players with a choice. Do you want to further enhance your attacker's attacking skills, for example, by applying an attacking chemistry style, or do you want to cover for the weaknesses around him, or his own weaknesses, and make him stronger in defensive capabilities? If you choose the later, you will have to choose a defensive chemistry style.
The example EA Sports FUT chief Marcel Kuhn gave Eurogamer during a recent presentation is of Chelsea's Eden Hazard and Ashley Cole. With left back Cole bombing forward at every opportunity, it might be a good idea to apply a defensive chemistry style to Hazard, who operates from the left wing, to improve his defensive capabilities.
The upshot of the player chemistry style system, Kuhn said, is it gives FUT, now in its fourth year, added depth for experienced players and increased customisation.
"You never meet a team that feels the same if you meet it twice," he said. "Right now a common team is a Brazilian silver squad, which you meet a lot of times in FUT. This year you play the same team over and over and they play the same way. Next year, you will beat the same team with the same 11 players, but they might feel very different in the backend of the gameplay because of different gamers applying different chemistry styles to them.
"There is no endgame in FUT. You might be able to build the squad you really wanted. But in the meantime we always post new content based on the real world. There will be special versions of specific players, for example, if they are in Team of the Week.
"So, even though you think you've finally assembled a squad that is your endgame, there will be new content that has built up in the background that you can get into.
"Also, with the chemistry styles, it'll lead to trial situations, where you're like, I wonder what this guy would play like if I attach this chemistry style to him? It's going to enhance the experimentation factor."
"There is no endgame in FUT."

EA Sports' Marcel Kuhn
Meanwhile, Kuhn outlined improvements that have been made to the transfer search. EA Sports has added the ability to search by a player name - a feature long called for by players. You'll also be able to compare players, so after opening a pack and receiving a player card you want to sell, you'll be able to press a button to see all the same players that are on the transfer market at that point in time, and check how much other users have posted him up for.
Kuhn teased some kind of FUT progress transfer from 13 to 14, too. "We'd love to tell you about that," he said. "There will be an announcement pretty soon, hopefully. We're just trying to figure out legal issues around that topic.
"But in essence, for the carry over from 13 to 14, it's similar to what you had in the past. If you're a returning user, based on your activity within FUT, you'll be welcomed with a returning user reward. Based on how much activity you had in FUT in various areas, you'll get a bigger or smaller returning user reward."
And Kuhn promised FUT will be platform agnostic, that is, there will be feature parity across all versions, current and next generation.
35 per cent of all FIFA 13 matches are FUT matches, and EA Sports expects that percentage to rise when FIFA 14 is released. It's currently the most popular mode in FIFA, with millions of games played daily.