NES arcade bundles Namco Museum Archives Vol. 1 & 2 out today
On Xbox One, PS4, Switch, and PC.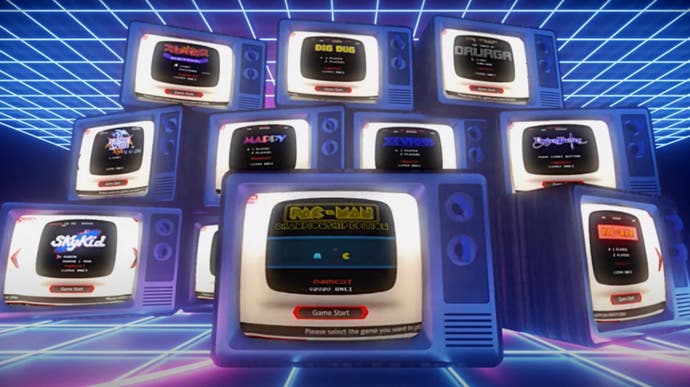 Bandai Namco is back with yet more bundles of its golden oldies today, this time in the form of its 8-bit-themed Namco Museum Archives Vol. 1 & 2, both of which are available now on Xbox One, PlayStation 4, Switch, and PC.
As you might have already twigged, Namco Museum Archives Vol. 1 & 2 are the localised versions of Bandai Namco's previously announced Namcot Collection, which releases in Japan today. Both offer a collection of NES arcade adaptations, but there are notable differences in the way the titles are being delivered across territories.
Over in Japan, the digital Namcot Collection takes the form of a free-to-download base game, which includes Wagyan Land and can be expanded by purchasing new titles individually. Currently ten titles are available, and a total of 20 more will arrive in August and October.
Over in the west, however, Bandai Namco has divided 22 games (including an intriguing 8-bit demake of the much-loved Pac-Man Championship Edition) across two separate releases, which look a little something like this:
NAMCO MUSEUM ARCHIVES VOLUME 1
Dig-Dug
Dragon Buster
Dragon Spirit: The New Legend
Galaxian
Mappy
PAC-MAN
Sky Kid
Splatterhouse: Wanpaku Graffiti
The Tower of Druaga
Xevious
PAC-MAN Championship Edition
NAMCO MUSEUM ARCHIVES VOLUME 2
Battle City
Dig Dug II
Dragon Buster II
Galaga
Gaplus
Legacy of the Wizard
Mappy-Land
Mendel Palace
Pac-Land
Rolling Thunder
Super Xevious
Digital versions of Namco Museum Archives Vol. 1 & 2 are available now, should you be gripped by a sudden yearning for the comforting blanket of nostalgia. Each volume costs £15.99 apiece on PlayStation 4, Xbox One, and Switch, and £16.99 on Steam.