NeoGeo X is not being discontinued. Only the Limited Edition with Ninja Masters is
UPDATE: More UK stock coming the week after next.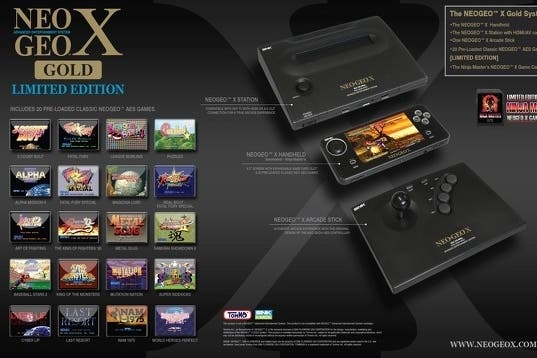 Update: A spokesperson for European distributor Blaze told me this morning that there will be more Neo Geo X Gold Limited Edition stock arriving the week after next. Funstock is the place to buy/pre-order.
Original story: Neo Geo X manufacturer Tommo has dispelled recent rumours that the system would be discontinued after only launching last month. As it turns out, only the Limited Edition that comes with a free copy of Ninja Masters is being discontinued, and even that is still being distributed until April.
"The NeoGeo X Gold System Limited Edition Collection Series that includes Ninja Masters, was always planned to be a limited edition product," said Tommo in a recent statement to Eurogamer. "We are currently manufacturing our final run of this Limited Edition Collection Series and our distributors worldwide expect to have the final stock in April. Given the popularity of the NeoGeo X format, we don't expect this stock to last long."
Following that, Tommo plans to release "more games, peripherals and software updates, as well as more units of the console hardware." In other words, don't panic!