Neo Geo Mini console now available for pre-order in the UK
Update: US orders live now, too.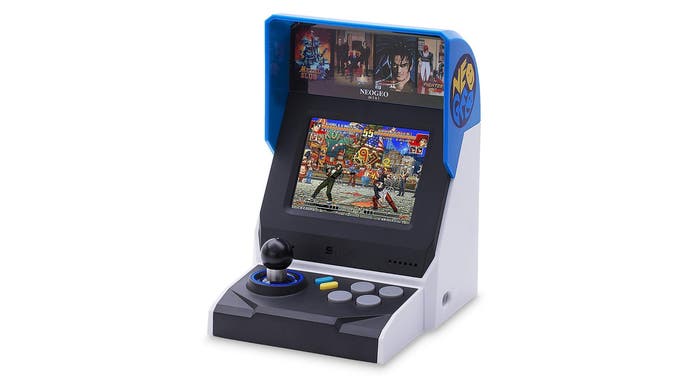 Update 12/09/2018: As of today, pre-orders on the Neo Geo Mini International Edition are live on Amazon US, costing $109, which is a frustratingly low price compared to the UK's £129.99. Stock is likely to be limited so get your orders in while you can, US readers.
Original Story: Following its announcement earlier this year, SNK's miniaturised classic arcade cabinet - the Neo Geo Mini - is available for pre-order from Amazon, releasing 29th October 2018.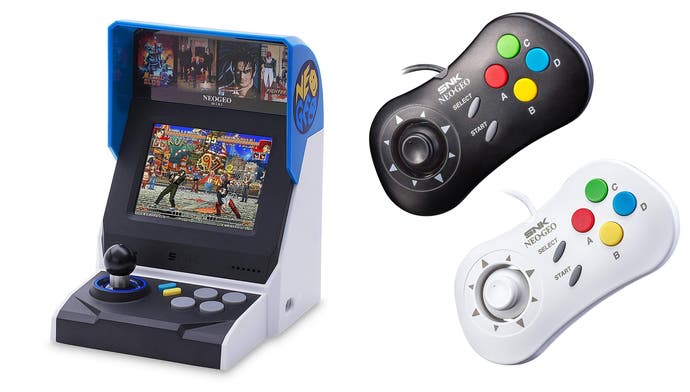 The Neo Geo Mini: International Version comes loaded with 40 classic Neo Geo games in the system by default, including classics from the Metal Slug, King of Fighters and Samurai Shodown franchises. The Mini is modelled after classic Neo Geo arcade cabinets, which we saw precious few of over here in the UK but were hugely popular in Japan and the US, albeit with different colour schemes in different territories.
The International version available for order here reportedly includes 14 games not previously included in the Japanese Neo Geo Mini release. The system is HDMI enabled and features a 3.5-inch display that runs at the ideal resolution for classic Neo Geo games. The whole package will cost you £129.99 while stock lasts.
In addition to the sytem itself, you can also order yourself Black and White controllers modelled after the classic Neo Geo home console pads. Those will set you back £24.99 each and release the same day as the system itself.
The full list of games included in the system, as listed on Amazon, is as follows:
Action games
Metal Slug
Metal Slug 2
Metal Slug 3
Metal Slug X
Metal Slug 4
Metal Slug 5
King of the Monsters
King of the Monsters 2
Sengoku 3
Magician Lord
Blue's Journey
Shock Troopers
Shock Troopers 2nd Squad
Robo Army
Crossed Swords
Mutation Nation
3 Count Bout
Fighting games
King of Fighters 95
King of Fighters 97
King of Fighters 98
King of Fighters 2000
King of Fighters 2002
Art of Fighting
Fatal Fury Special
Real Bout Fatal Fury
Garou: Mark of the Wolves
Samurai Showdown II
Samurai Showdown IV
Samurai Showdown V Special
Last Blade 2
World Heroes Perfect
Kizuna Encounter
Ninja Masters
Sports games
Top Players Golf
Super Sidekicks
Football Frenzy
Shooting games
Blazing Star
Last Resort
Ghost Pilots
Puzzle games
Tragically, the one big omission here is the original version of Windjammers, though that game is mercifully available on PS4 currently - and soon Nintendo Switch.
Stock is likely to be limited at launch, so if you're determined to get yourself one of these little guys, now's your best chance.
Meanwhile, over at Jelly Deals, you can check out today's best deals, which include big discounts at Build a Bear Workshop today only (prices starting at £10), as well as discounts on the Monkey Island games, Overwatch, and more.