Need for Speed: Rivals review
Apex predator.
Ghost Games' first Need for Speed takes the very best of Criterion in this excellent package.
Grab a Ferrari 458 Italia and hit up Need for Speed: Rivals' Redview County and you can find yourself in a pretty decent approximation of what a contemporary, open-world OutRun would look like. You'll see traces of AM2's magic in the languid powerslides that send sweet white smoke pluming from wheel arches, and in the long drives that take you through sinewy roads darkened by the thick canopy of pines, on to snaking snowy mountain passes, and climaxing in full-throated blasts through wide, parched desert.
Dial back some of Rivals' obnoxious background chatter and soundtrack and you'll feel it in the base thrill of pounding open roads, and see it in far-off horizons that can be reached in several quick seconds with a heavy foot and a boost of nitrous. A drive around Redview County sees the speedometer rarely dipping below the 150mph mark, and the game delivers a sense of speed to back up its convictions.
It's a sensation that was brilliantly felt in Criterion's Need for Speed: Hot Pursuit in 2010, but one lacking a little in its 2012 follow-up Most Wanted. Rivals feels like a continuation of those titles, which is no surprise - the bulk of the staff at new studio Ghost Games was transplanted from the Guildford studio earlier this year, and the weight of handling, feel of vehicle combat and technical achievements will be familiar to fans of the Burnout developer's brand of racing.
It's a continuation, but also a balancing act: the open world of Most Wanted was an automotive playground stuffed full of treats, but there was a sense of claustrophobia creeping in to the confines of the urban backdrop. Rivals keeps the open world, but it restores the wide, long highways of Hot Pursuit and weaves them in to a space that's vast, cohesive and full of countless little distractions.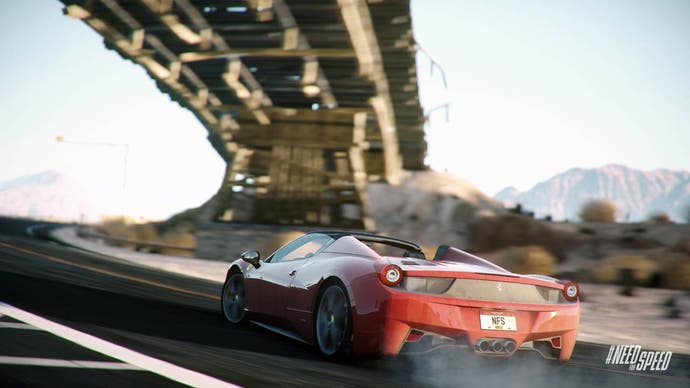 Ghost has been vocal about the recruitment of Jamie Keen, a producer formerly of Ubisoft Montreal who is in part responsible for Far Cry 3's open world, and while a certain influence is felt, Redview County isn't quite Rook Island. It's not far off, though - if the measure of a good open world is how easily you're sidetracked when going from A to B, then this is a considerable success, with each stretch of road offering a new car to shut down, an online record to beat or an event to partake in.
There's a beauty to the world, too: Ghosts Games' Redview County is one of the better ways to show off next-gen hardware at launch. Weather systems roll in, with lightning forks casting brilliant light on the muscular machinery and rain dramatically dancing across the screen, while waves crash across seafront walls. Collisions, meanwhile, are met with enthusiastic storms of particles.
It's a handsome world, and one that's underscored with some real machismo - you'll never hear an angrier rumble than that made by the V12 sitting under the Ferrari 599's elongated bonnet, and in Rivals the cars are so manly they all exude a slick sweat no matter where the dynamic weather cycle's at. For all the testosterone that's swilling around, though, there's a certain grace to be found in the systems underpinning Rivals.
The career is split between cops and racers, and you're able to flit between the two at any point. Cops have access to a wider range of pursuit tech - little Mario Kart-like gadgets grounded in Need for Speed's world that offer the ability to send out spike strips, blast out shockwaves or summon helicopters. Patrolling Redview County, there's a seamless list of activities that can earn you speed points, Rivals' own in-game currency. See a racer speed past and you're free to engage and take them down, or simply carry on your way to whichever time-trial or pursuit you had your heart set on.
As a racer, there's more depth and nuance to the career - the asymmetry of Rivals' two factions isn't always in balance. Racers have access to a more limited range of pursuit tech, but are free to customise their cars, improving their performance, toughening the chassis or, more importantly, painting the rims just the right shade of red.
Once deposited in the world, there's a deeper sense of engagement as a racer, too. The more active you are in a session, the higher your heat level - an analogue, of sorts, of Grand Theft Auto's wanted system. With more heat comes more points, and the ability to keep a score multiplier rattling on before banking it in at one of a number of hideouts across the map. It also means more attention, with more bounty for other cops on patrol for shutting down a high-level rival - if they're successful, any points accrued are then lost completely.
The balance of risk and reward lends extra urgency to grinding, and it can create some wonderfully dynamic moments. When you're sitting with 150,000 points in the bank and a heat level that's risen to seven, the angry mob of police-liveried Paganis backed up by a searchlight-waving helicopter is that little bit more menacing, and your acrobatic off-bridge exit that sent supercars spilling into the harbour feels that much more heroic.
It's all the better when you realise that one of that chasing pack was being controlled by another player. Rivals' big play for innovation is AllDrive, and while its debut isn't quite as thrilling or faultless as the asynchronous online multiplayer that Hot Pursuit introduced, it's a decent enough asset nevertheless. Instead of sectioning off multiplayer, Rivals melds it into the campaign, letting players share the world as they go off in pursuit of their own goals.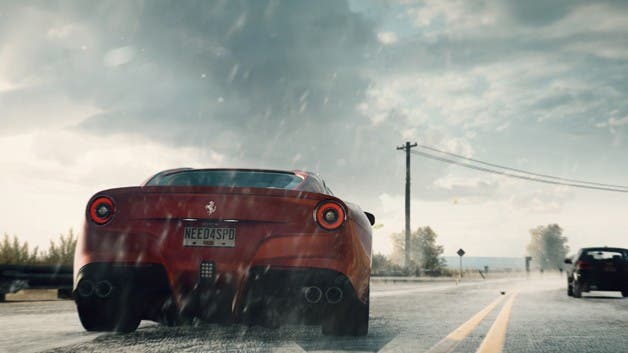 When it comes together, it's fantastic - you can see a gaggle of player-controlled cops working together to bring a high level racer down, or a random encounter can send you on a county-wide chase as balletic and chaotic as only multiplayer can be. Compromises have been made to serve the feature, though, and some are more jarring than others.
The world can't be paused, which is understandable, but a more painful loss is the punchy vehicle combat of Criterion's games of old. One hit knock-outs are no longer particularly feasible, leading instead to slow wars of attrition that see players steadily knocking away at extended health bars. AllDrive also isn't quite the realisation of Eden Studios' dream that Test Drive Unlimited went some way to attaining, either - the moments where the world feels alive with multiplayer possibility are balanced out by those where other player-controlled vehicles seem a million miles away, and the balance between the size of the map and the number of players within it doesn't quite seem to have been met.
Ghost Games will likely get there, though, and what they've conjured up in their debut effort is a remarkable achievement. Before downsizing, Criterion created some of the last generation's very best arcade racers in Hot Pursuit and Burnout Paradise. Ghost Games has carried on that torch and crafted a racer that any of its competitors would do well to match in the new generation.