Need for Speed: Hot Pursuit
Protect and swerve.
How do you define Need for Speed? A perennial stocking filler for Electronic Arts' long-suffering investors? A neon love letter to Vin Diesel and Paul Walker's The Fast and The Furious? After last year's Shift, perhaps it's just the latest addition to a long line of challengers in a field previously dominated by Bizarre Creations?
Nonsense, says Criterion. It's about going really f***ing fast.
If Need for Speed: Hot Pursuit is remembered for one thing, it will be for putting the "speed" back in Need for Speed. Even the lowliest cars (themselves things like RX-8s and Boxters) scorch the tarmac of fictional Seacrest County with their absurd velocity, but as you advance through the rankings either as a cop or a racer and start burning your way around in Lamborghinis, Maseratis and Ford GTs, the sense of raw pace is beyond anything we've seen since the Nürburgring sprints of Project Gotham Racing 3.
The line between brilliant, beautiful speed and epic, catastrophic head-on collisions is measured in milliseconds, and every extra pixel of clarity is vital – we haven't strained this intently to decipher the vanishing point since F-Zero GX on the GameCube. Are those headlights on the horizon? Is that a spike strip? In fact, sometimes Hot Pursuit is so fast that, even though you know the game's physics-defying drifts will catch you as you dive into a hairpin at close to 200mph, you're slightly scared to put your foot back on the gas.
Hot Pursuit is unlikely to be remembered for only one thing though, because it has plenty of memorable tricks up its sleeve. The Career mode, in which you play as both racers and the cops that chase them, seems a relatively standard affair – a series of events spread around Seacrest County that gradually etch memorable routes out of interconnected highways in the desert, on the coast and through the icy mountains, over a variety of event types – but it has numerous supporting struts that give the lie to its simplicity.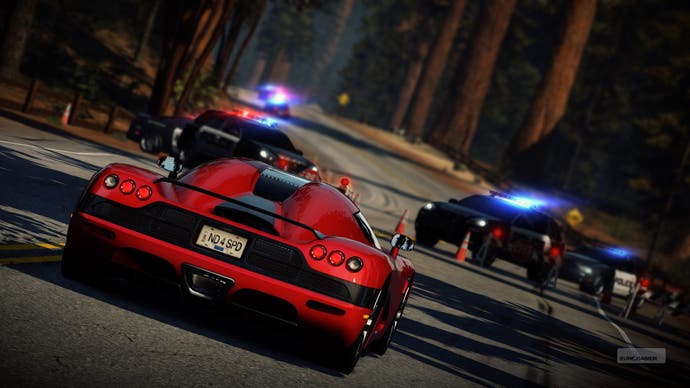 It's good enough at horizontal variety, providing a range of power-ups with which to enforce or evade the law (spike strips, road blocks, EMP lock-ons, turbos, etc.) and varying the number and type available for each event. It also mixes up straightforward races, time trials, duels and pursuits, so you seldom do the same thing twice in a row. But it's good at vertical variety too, throwing in occasional "preview" events – usually time trials – that give you the taste of a new car 50 or 100mph faster than your current ride.
A bigger impact is made by the "Autolog", which uses your friends list to populate leaderboards for every event and challenges you to beat their times. You can post the results to your "Wall", and like Bizarre's underrated Blur, this social interface adds a welcome extra layer of competition to your single-player exploits – although in this case it opts for its own internal tracking system rather than spamming Facebook and Twitter.
This similarity is probably a product of the zeitgeist rather than a sideways glance, but Hot Pursuit certainly takes direct lessons from the experience-based progression systems set in motion by Metropolis Street Racer many years ago. You're rewarded with "bounty" for your finishing times and antics on the track – even negatives, with a 2500-point boost providing a minor silver lining to the cloud of a 20th Burnout-style auto-wreck.
As you advance through the ranks gathering bounty, you gain access to new event series, power-ups and vehicles, and the pace of unlocks is almost as breathless as the game. So much so, in fact, that it's sometimes frustrating not to be able to immediately repeat an event you've failed because the game wants to show you what you've unlocked with the XP you earned in failure (although a new McLaren MP4-12C in the garage is nothing to sniff at, of course).