Need for Speed: Hot Pursuit
Racers race, cops chase.
The Criterion developers demoing Need for Speed: Hot Pursuit on EA's E3 booth say that the new game shares a subtitle with 1998's Need for Speed III for the simple reason that it sounds really cool. Also, creative director Craig Sullivan explains how considering those two words makes his job easier.
"It's going to have pursuits in it, and they're going to be pretty f***ing hot. Anything else is just a waste of time."
This isn't a game that wastes any time at all in setting out its stall when you play it. It is exactly what you would expect a game in the Need for Speed series developed by the house of Burnout, Criterion, to be. It's very fast, and set on open, sweeping roads. It has immediate, drifty handling and painfully crunchy impact physics. It's full of ultra-exotic real-life hardware like the Lamborghini Reventon, Bugatti Veyron, Pagani Zonda and Koenigsegg.
This time, however, they aren't going to be sporting the race trim of the track or the custom bodykits of street cool. They'll either be showroom-sleek or tricked out with black-and-white paint and flashing lights as the ultimate patrolman's fantasy. When the Veyron cop car raises its spoiler, it says "STOP" on it.
Need for Speed has long featured police chases, but always cast the player as the hunted. Apparently Need for Speed fans' most-requested feature for seven years has been to play as a cop, so Hot Pursuit grants their wish, offering two complete single-player campaigns, one on either side of the racer/chaser divide. It also, of course, serves Criterion with a hook for competitive, combative multiplayer.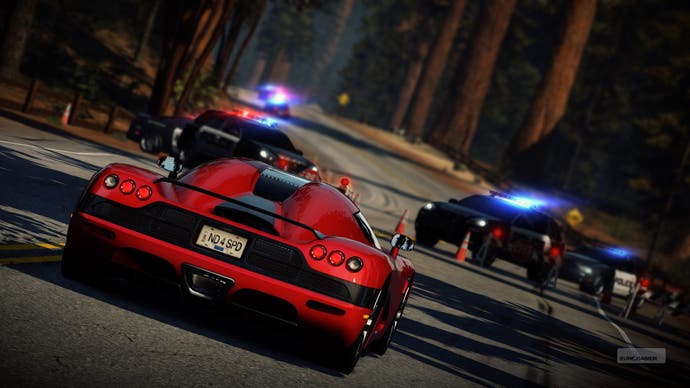 The show-floor demo consists of a round of one-on-one Interceptor. The two players are dumped close to each other into Hot Pursuit's open world: 100 miles of highways in a natural wilderness with a Midwestern feel, dusty deserts climbing into rocky, mountainous pine forests. There's very light and occasional traffic on the roads, nothing close to Burnout Paradise levels of business. The racer is trying to get far enough away from the cop to escape, the cop to bust the racer by wrecking his or her car.
The handling is, unsurprisingly, strongly reminiscent of Burnout. It's ultra-fast and a bit understeery, but that's fine, because progressive, high-speed and very controllable drifts are triggered with a light tap of the brake. The handbrake is for pulling wild 180-degree turns which will take a little time to get properly under control, but it will be worth it, because sudden changes of direction are a very useful tactic. You also have nitro boosts limited by a cooldown.
Both players have some additional tactical tools at their disposal on the d-pad. The cop can summon a roadblock ahead of the racer if he has him on his mini-map radar, trigger an EMP burst that slows the racer down and fuzzes up his display, or call in aerial support, a helicopter that dives in and drops spikes strips on the road ahead of the racer. The Racer has Overdrive - a boost of super-speed beyond even the Nitro - a decoy that sends a false signal to the cop's mini-map, and a jammer that obscures it completely. These unlocked progressively during the round (although this might have just been a feature of the E3 demo).