Naughty Dog debuts new The Last of Us multiplayer concept art for series' 10th anniversary
Ship shape.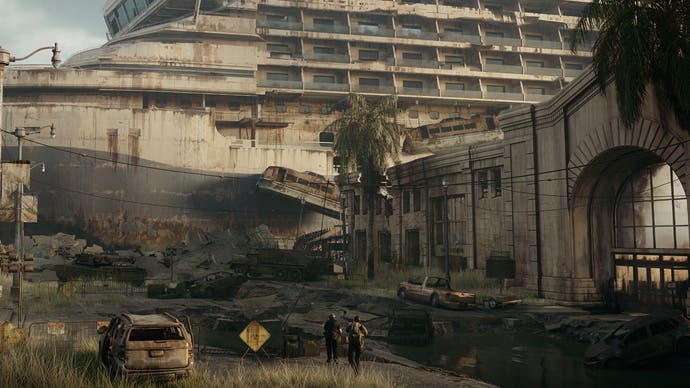 To kick off the series' 10th anniversary year, developer Naughty Dog has shared a new piece of concept art for its upcoming The Last of Us multiplayer.
This new image shows an abandoned cruise liner that, along with the rest of the world, has succumbed to the weather and decay of time. Its windows have been smashed, its hull has rusted - a far cry from its presumably once luxurious state.
Along with this artwork, which you can see in full below, Naughty Dog president Neil Druckmann stated the studio's upcoming multiplayer project is "shaping up to be a fresh, new experience". But while it may be fresh and new, Druckmann has said it will still be an experience "rooted in Naughty Dog's passion for delivering incredible stories, characters, and gameplay".
Druckmann promised the team will share more details on this "ambitious" release with us "later this year".
In addition to this little nugget of information, Druckmann also revealed the entire The Last of Us franchise has sold in excess of 37m copies worldwide as of last month.
"It has been an unbelievable 10 years, and to know the journey of our characters has meant so much to so many of you moves our team," he wrote.
"Thank you for your support and appreciation for the work our teams do. We hope you'll continue to follow us along this road, just don't forget to pack a brick or bottle."
There will be more "fun surprises" to commemorate the series further as the year goes on. In the meantime, HBO's The Last of Us adaptation will debut on 15th/16th January (depending on which side of the pond you are), with Naughty Dog promising "interviews and behind-the-scenes looks at the process" to coincide with the show.