Natural Selection 2 dev's Subnautica is out now on Steam Early Access
Exploratory first-person swimmer seeks adventurous divers.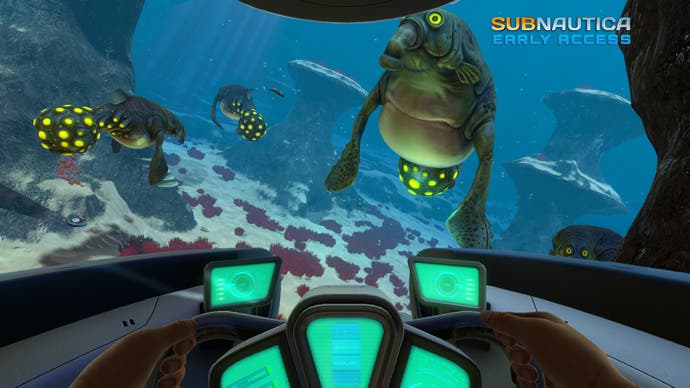 Exactly one year after it was announced, Natural Selection 2 developer Unknown Worlds has released an early build of its underwater exploration game Subnautica on Steam Early Access.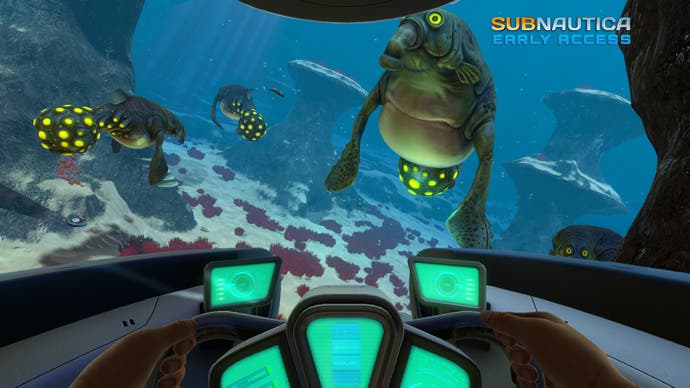 Priced at £14.99, and currently 10 per cent off, Subnautica is a swimming sim with planned sandbox and roleplaying elements as you assume the role of a stranded astronaut exploring an otherworldly sea.
Despite being on Steam Early Access, Unknown Worlds is going the DayZ route and is very vocal about the fact that this is a very early build and the developer is still sorting out what the game will actually be.
When the project was announced last year, the developer said, "Subnautica will combine elements of role playing, sandbox, exploration and cinematic games to create a unique experience, the genre of which we do not believe has yet been invented."
12 months later and it sounds as if it's still taking shape. "We're not making a sandbox game, nor a building game, nor a survival game, although at times we thought we were," said game director Charlie "Flayra" Cleveland in a blog post from a couple of months back. "We're building a game where you feel like a scientist who has crash-landed on an aquatic alien world and is learning how it (and its strange inhabitants) work. It's a game of exploration, discovery and theme. A game currently without a specified goal. A game without extrinsic rewards. A game without combat and weapons."
"We want to add an overall goal and structure to the game, possibly based around making the planet habitable before your people's colony ships arrive. Securing a power source, food, cleaning up irradiated or polluted areas, planting food and making scientific discoveries about the creatures on the planet. Your PDA would be evaluating your progress in all these areas but you would be deciding on your strategy and managing short and long term goals," Flayra added. "I should stop before I get ourselves into real trouble and people think that we're promising these things. We're not promising anything."
Since Subnautica is in such an early phase, the developer noted on Steam that it will probably remain in Early Access for most of 2015, maybe longer.
So what's in it right now, you ask? A lot of cool sea creatures, it would seem, as the developer outlined some of its ecology and AI in a recent blog post.
"Subnautica is absolutely playable and relatively stable right now. There is at least one hour of adventure content available for play," the developer said on Early Access. "Before going on Early Access, Subnautica was publicly available and playable for two months. In this time, significant work was done to ensure that the game is in a state to stand up to the demands of Early Access."
Unknown Worlds chose to develop this way because it wanted player feedback to determine the game's final shape. "Early Access is a nucleus around which a better, bigger, and more fun game can form," the developer said. "Lots of the core elements of Subnautica gameplay are already in place. Over time the world will grow larger, deeper and more striking, creatures more diverse and intelligent, loot, crafting and vehicle construction more comprehensive, the story more fleshed out, and ecosystems richer and more vibrant. Large submarines, new unique life forms, and fantastic environments are all in production and will be introduced to Subnautica Early Access in updates."
Sounds like a pretty bold experiment, that's equal parts alienating or exciting depending on your interest in the early phases of game development and extra terrestrial fish. It sure looks pretty though.