My Friend Pedro and Planet Coaster headline this month's Humble Choice
Plus, F1 2019, Battle Chasers: Nightwar, Turok and more!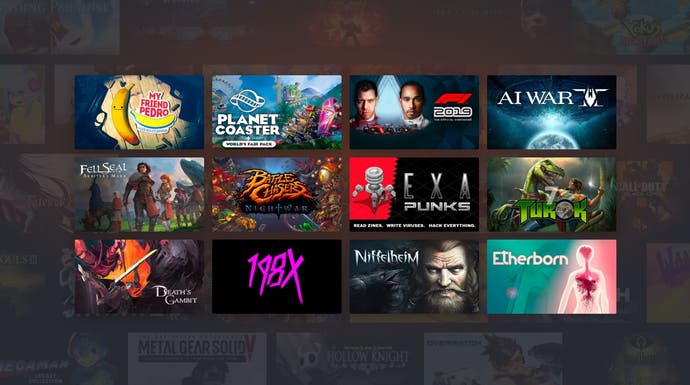 The list of games available in this month's Humble Choice bundle has been revealed - and it's good news if you enjoy slo-mo gun fu, designing theme parks or whizzing around the same bit of tarmac for hours on end.
My Friend Pedro, Planet Coaster and F1 2019 are the three big headline games, with the rest filled out by intriguing indies such as Battle Chasers: Nightwar, Etherborn and more.
Rick found My Friend Pedro to offer "slick 2D shooting that slips over itself" in the Eurogamer review. Meanwhile, Planet Coaster was labelled "the finest park construction simulator yet" and F1 2019 "the most authentic F1 game to date". A decent trio to get you started, then!
Here's the full list of games to pick from in this month's Humble Choice:
My Friend Pedro
Planet Coaster + "World's Fair Pack"
F1 2019 Anniversary Edition
Fell Seal: Arbiter's Mark
Battle Chasers: Nightwar
Exapunks
Turok
Death's Gambit
198X
Niffelheim
AI War 2
Etherborn
If this all sounds new to you, Humble Choice was introduced at the end of 2019 as a reworked version of the old Humble Monthy subscription. Instead of receiving a handful of mystery games each month, you now get to choose a certain number from a wider list depending on your membership level.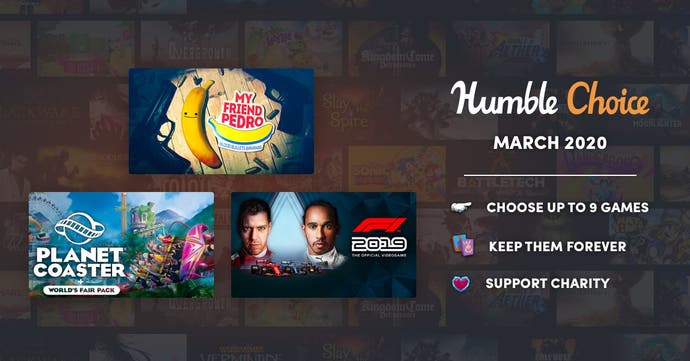 The top tier Premium membership will get you nine games, access to the Humble Trove and 20 per cent off the Humble Store for £15.99 a month. The next step down is a Humble Basic subscription with three games, Humble Trove access and a 10 per cent Humble Store discount for £11.99 at a month.
The change originally sounded good on paper (more games! more options!) with some months offering some terrific bargains if you decided to snap up certain games on offer. Take Planet Coaster in this month's selection, for example. That would set you back around £30 at full price on its own.
Put simply, your mileage may vary with these over time, but you can always just pause your subscription or simply sign up again for the months that interest you. Let's be real: all our backlogs are big enough without adding nine new games to it everything 30 days, right?
---
After more top gaming offers? You can find loads over at Jelly Deals. Join us to find the best SD card for Nintendo Switch, our picks for the best PS4 external hard drive or where to find the best Xbox Game Pass Ultimate deal.
---
And things are only set to get busier with Animal Crossing: New Horizons, Doom Eternal and Persona 5 Royal launching in March!