Mortal Kombat 11's Cassie Cage will dab over your corpse
"Can I say it? Just once?"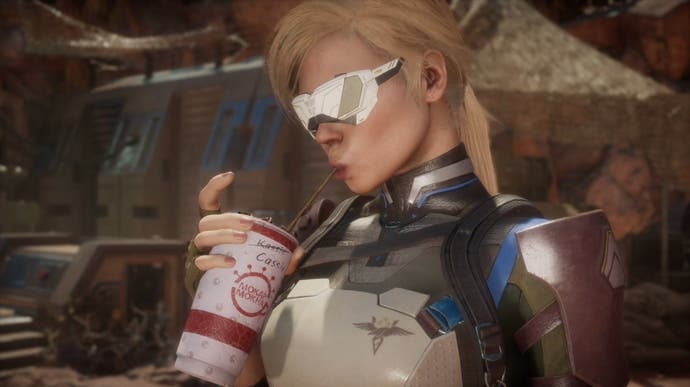 If you're into Mortal Kombat, you'll know about Cassie Cage.
Sergeant Cassandra Carlton "Cassie" Cage made her debut in NetherRealm's famous fighting game series with 2015's Mortal Kombat X, and quickly became a fan favourite.
The daughter of Johnny Cage and Sonya Blade has a moveset that's sort of like a combination of her parents' most famous attacks, along with a few signature hits of her own.
Cassie, one of the new wave "Kombat Kids", holds her own in a fight, but it was her character design, personality and overall sass that made her stand out. One of her fatalities in MKX saw her smash her opponent's jaw off before taking a selfie with them and uploading it to a social network. Like!
Based on what I've seen of Cassie in Mortal Kombat 11, though, NetherRealm has doubled-down on her youthful nonchalance - and there are some real flashes of brilliance here.
It's clear NetherRealm has re-jigged Cassie's look from MKX, and in doing so has changed voice actors. Ashly Burch, who voiced Cassie in MKX, is replaced by Erica Lindbeck (Felicia Hardy/Black Cat in Spider-Man). I'm a big fan of Burch's video game work, and her voice-acting played a huge part in what made Cassie Cassie in MKX, but based on the character's dialogue in MK11 promotional material, Erica Lindbeck has done a fantastic job.
First off, let's get Cassie's pre-fight entrance out of the way: she lowers herself from a helicopter, upside down, says "sup", pops her bubble gum then nonchalantly flips into a walk. Nice.
Some of her unique pre-fight dialogue is great, too. The video below shows her chatting with her old man before beating him up. My favourite: "This is why I'm in therapy."
Her line when she fights Mortal Kombat veteran Scorpion is the best of the lot, though.
The video below has loads of Cassie's pre-fight lines of dialogue, and they're all great. There are plenty of pop culture references here (Bill and Ted etc) spliced with savage put-downs ("Sub-Zero, can you just chill?").
Oh yeah, when Cassie wins a round, she dabs. It's a bit five years ago, but she makes it work.
One of her fatalities sees her make a heart shape where her opponent's heart should be.
And the final touch: in MK11, the barista misspelt Cassie's name on her coffee cup. We've all been there, Kassie.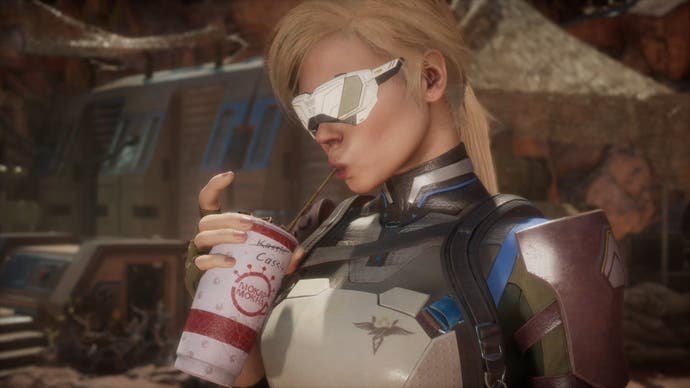 For me, Cassie looks like one of the best characters in MK11, not necessarily for her usefulness in online matches, but because she's just a lot of fun and makes me laugh. If there's a concern it's that in leaning into her sass, Cassie may end up grating, but NetherRealm has, so far anyway, shown a real flair for getting the character right.