Monster Hunter World's Resident Evil 2 and Horizon Zero Dawn events dated and detailed
Both happening this month for Iceborne players.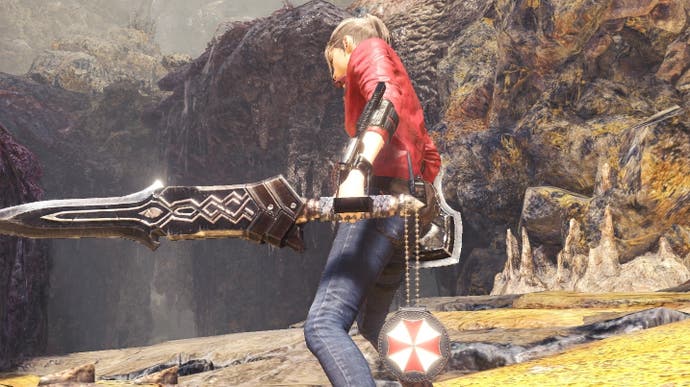 Monster Hunter World is opening its arms once more to usher in a fresh selection of cross-franchise collaborations, this time for its recently released Iceborne expansion. From tomorrow, Resident Evil 2 gets the crossover treatment on Xbox One and PS4, while Horizon Zero Dawn's second collaboration event comes to PS4 on 21st November. You'll find more on each below.
Iceborne's Resident Evil 2 event runs from tomorrow, 8th November, until 6th December in the UK, and sets hunters the task of defeating a Blackveil Vaal Hazak as part of the RE: Return of the Bioweapon quest (available to anyone at MR20 or above). The event monster variant, explains Capcom, releases special spores that require the use of Green and Red Herbs to counter.
By defeating the Elder Dragon, hunters can acquire two new gestures - a zombie shuffle and damage-dealing zombie bite - alongside the materials needed to craft new Full Armour Sets inspired by Leon S. Kennedy and Claire Redfield. It's also possible to craft three Raccoon-City-themed pendants that can be used to decorate weapons.
Capcom's Resident Evil 2 collaboration also brings new decor for Iceborne's Your Room feature, enabling hunters to deck out their abodes with the likes of Resident Evil's iconic typewriter and item box. Additionally, it's possible to transform the Handler into the Tyrant (even in cutscenes), via "The Handler's Terrifying Tyrant" paid costume DLC.
As for Iceborne's Horizon Zero Dawn event, this second franchise crossover will take its cue from Guerrilla Games' The Frozen Wilds expansion. The PS4-exclusive event gets underway on 22nd November in a quest that pits hunters against a mighty Zinogre. Materials gained by defeating the beast can be used to craft Aloy's "Stormslinger Prototype" Light Bowgun.
Capcom says more Horizon Zero Dawn content will be coming to Iceborne in December, as part of an update that will also introduce a new monster and other seasonal events for all players.
Additional information on Monster Hunter World: Iceborne's November content update - which is available now on Xbox One and PS4, and also brings new weapon and Palico designs inspired by the community - can be found on Capcom's blog.