Monster Hunter World: Iceborne is adding extra-angry versions of Rajang and Brachydios
Coming to consoles in March, PC in April.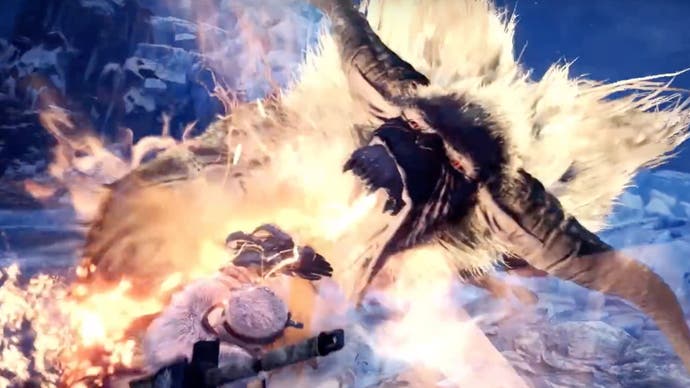 Just when you thought you might be making a dint in Monster Hunter World: Iceborne's increasingly teetering mound of creature-bothering delights, Capcom is back with word of two new - and extremely angry - subspecies heading to Xbox One and PlayStation 4 soon as part of the expansion's free March update.
First on the list is a beefed up and stressed out version of everybody's favourite slime-spreading ground-rattler Brachydios. Based on Capcom's reveal trailer below, this smouldering new variant's biggest distinction would appear to be slime attacks that super-heat and explode much faster than usual, leaving considerably less time to get the hell out of the way.
And it sounds like the Brachydios' already adrenaline-exploding fight theme is getting an appropriately dramatic remix for the arrival of Iceborne's Raging Brachydios subspecies.
As for monster number two, March gives expansion players a chance to come face-to-enormous-primate-fists with an equally irate variant of mega-ape Rajang. Judging by its brief trailer appearance, the Furious Rajang, as the subspecies is known, is in a perpetual state of violent agitation, with no sign of respite from its enraged attacks.
There's likely a little more to both new additions than the trailer hints at, but we'll need to wait until Capcom finds itself in another sharing mood for further details.
As per the publisher's previously revealed 2020 Iceborne roadmap, the Raging Brachydios and Furious Rajang will come to Xbox One and PlayStation 4 in March, and then arrive on PC a month later - at which point development of all three version will synchronise.
PC players still have plenty to look forward to in March, however, thanks to the arrival of the Safi'jiiva - the adult form of the Xeno'jiiva encountered toward the end of Monster Hunter World's base campaign - and the Stygian Zinogre. There's also a new Guiding Lands update for PC players, introducing a new tundra region.