Monster Hunter World: Iceborne adding Stygian Zinogre, Safi'jiiva on PC tomorrow
Plus tempered Ruiner Nergigante and more.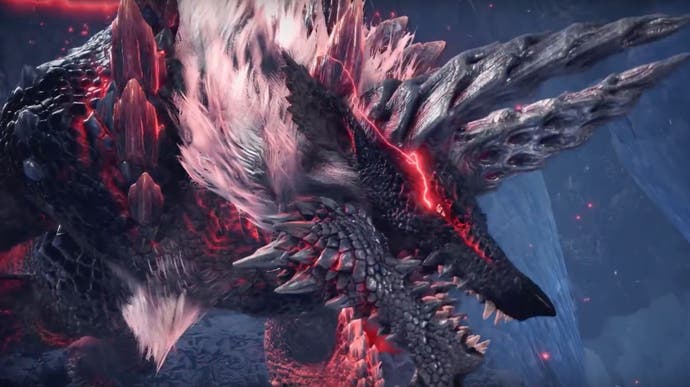 Come April, Monster Hunter World fans across both PC and console will be able to bathe in a unified glow, as Capcom's post-launch development schedule aligns across all platforms. Until then, however, Iceborne's staggered content drops continue, with tomorrow, 12th March, ushering in the fearsome Stygian Zinogre and Safi'jiiva on PC.
Those wishing to challenge the Safi'jiiva (that's the fully grown, and even crosser, form of the base game's final boss) will need to accept the "??? Recon" assignment from the Pub Lass in the Gathering Hub. Crafting materials earned through repeated victory can be used to fashion new Safi'jiiva hunter and Palico equipment.
Additionally, the new collaboration-focussed Safi'jiiva Siege quest will be made available from midnight on Friday, 20th March, enabling players to obtain new Awakened weapons.
The Stygian Zinogre, meanwhile, awaits at the far end of Iceborne's challenging campaign, and hunters hoping to face it will be required to speak to the Seeker in Seliana, having beaten the expansion's main story and unlocked the Guiding Lands's Volcanic Region.
Your reward for besting the Stygian Zinogre - aside from an enormous sense of well-being and, if my personal approach to Monster Hunter is anything to go by, hand cramp - comes in the form of materials needed to craft new Zinogre hunter and Palico equipment. You can also obtain a new weapon pendant and the Stygian Zinogre Claws by completing the Seeker's quests.
In addition to Iceborne's two new monsters, Capcom's latest PC title update - which arrives at midnight on Thursday, 12th March - introduces the new Tundra Region to the Guiding Lands, a tempered version of the Ruiner Nergigante, new layered armour and Elder Melder items, new Seliana room decor and background music, plus a variety of other changes, including improved mechanics for the sword and shield and dual blades.
April will bring the Furious Rajang and Raging Brachydios to Monster Hunter World: Iceborne on PC (console players get them this month), alongside new Arch-Tempered and Master Rank variants of existing monsters - at which point Iceborne's development will synchronise. As for May, that will herald the return of a still-mysterious "fan-favourite monster".