Modern Warfare 3, Skyrim dominate crowded November US sales chart
Halo, Mario, Sonic, Rayman, Need For Speed miss top 10.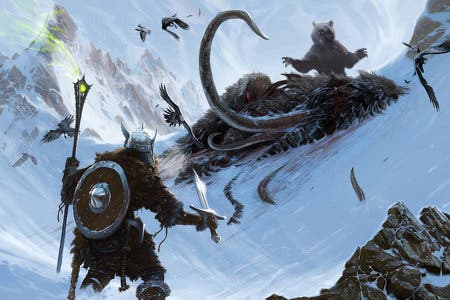 UPDATE: Hardware sales numbers are trickling in. The Xbox 360 moved 1.7 million, the Wii 860,000, the 3DS managed 795,000 and the DS 350,000. Sony is yet to offer up its results.
A few game totals have been revealed too. Uncharted 3 sold 700,000, while Super Mario 3D Land managed 625,000. Skyward Sword sold more than 600,000 in its first week, but Nintendo didn't confirm a total for the month.
ORIGINAL STORY: Call of Duty: Modern Warfare 3 was November's biggest selling game of the month in the US, according to the latest set of NPD data.
It was a huge month for the games industry, with more new physical content sold than in any other November on record.
Elder Scrolls V: Skyrim beat out Battlefield 3 for second place, with Assassin's Creed: Revelations debuting in fourth.
Uncharted 3 and Zelda: Skyward Sword both did admirably considering they're single platform-only, coming in at seventh and ninth respectively. Saints Row: The Third entered at eight, while Batman: Arkham City rounded out the chart at ten.
NPD analyst Anita Frazier noted that first month sales of Modern Warfare 3 were up seven per cent on Black Ops.
After just a few weeks on shelves, Skyrim is only half a million sales shy of matching Oblivion's lifetime total. It saw a five-fold increase over Oblivion's first month numbers.
Frazier added that Battlefield 3 is now the biggest selling Battlefield title of all time, while Batman: Arkham City is just shy of Arkham Asylum's lifetime total in only its second month on sale.
All this means that the following big name releases all missed out on a top 10 spot: Super Mario 3D Land, Halo Combat Evolved Annicersary, Need For Speed: The Run, Metal Gear Solid HD Collection, Goldeneye Reloaded, Sonic Generations, Mario & Sonic at the London 2012 Olympic Games and Rayman Origins.
However, Frazier revealed that both Mario and Halo would have made the top 10 if the chart was broken down by SKU.
Here's the full top 10:
Call of Duty: Modern Warfare 3 (360, PS3, WII, PC), Activision Blizzard
Elder Scrolls V: Skyrim (360, PS3, PC), Bethesda Softworks
Battlefield 3 (360, PS3, PC), Electronic Arts
Assassin's Creed: Revelations (360, PS3, PC), Ubisoft
Just Dance 3 (Wii, 360), Ubisoft
Madden NFL 12 (360, PS3, Wii, PS2, PSP), Electronic Arts
Uncharted 3: Drake's Deception (PS3), Sony
Saints Row: The Third (360, PS3, PC), THQ
The Legend of Zelda: Skyward Sword (WII), Nintendo
Batman: Arkham City (360, PS3), Warner Bros. Interactive
Over on the hardware side, the Xbox 360 was yet again the biggest-selling platform of the month, and by a considerable margin.
"This is the fourth consecutive month in which the Xbox 360 has been the top selling hardware system," explained Frazier. "The gap between 360 sales and sales of the next best selling platform was the largest we've seen since December 2008 when the Nintendo DS was the top selling system."
No further hardware details have yet been announced, but we'll update as the various platform holders make their own announcements.