Modern Warfare 2: Stimulus Package
Robert Bowling talks about today's DLC infusion.
You have to feel for Robert Bowling. Infinity Ward's creative strategist has over 100,000 followers on Twitter (dwarfing ours, obviously), the press hangs on and repeats his every substantive word, and he's on the phone doing rounds of interviews for the Modern Warfare 2 "Stimulus Package" map pack.
You have to feel for him because, right now, everyone would rather ask him about the very public split between Infinity Ward's former management, Jason West and Vince Zampella, and mother-publisher Activision. The same goes gor the good-natured, DICE-originated ribbing Modern Warfare 2 - and its marketing strategy - have received thanks to rival title Battlefield: Bad Company 2, which has been eating up the charts and reducing the gap between EA's shooter efforts and Activision's.
But then Bowling takes it all in his stride, telling us he was unaffected by the Infinity Ward reshuffle, and that he not only respects Bad Company 2, but he "loves" it. So fair enough. The following is the other stuff we discussed - and particularly the Stimulus Package, which is released today on Xbox 360.
EurogamerNow Battlefield: Bad Company 2 is out and gunning for your audience, is the 1200 Microsoft Points (£10.20 / €14.40) price 'right' for Stimulus?
Robert Bowling
Anybody who invests in the Stimulus Package is going to get their money's worth and not feel cheated. There's so much mileage to be had in these five new maps, three of them brand new, two of them classics. No one's going to be disappointed, especially if you play Modern Warfare 2 online a great deal.
EurogamerHow much new life does this Stimulus Package realistically breathe into Modern Warfare 2?
Robert Bowling
These guys are putting hundreds and hundreds of gameplay hours into the current maps, and they will do on these as well. All these maps are great regardless of what playstyle you're in, so there's really something for everyone. Crash and Overgrown were some of our most popular maps from Modern Warfare 1 and even the beta of that. There's no denying the playtime you're going to get out of those.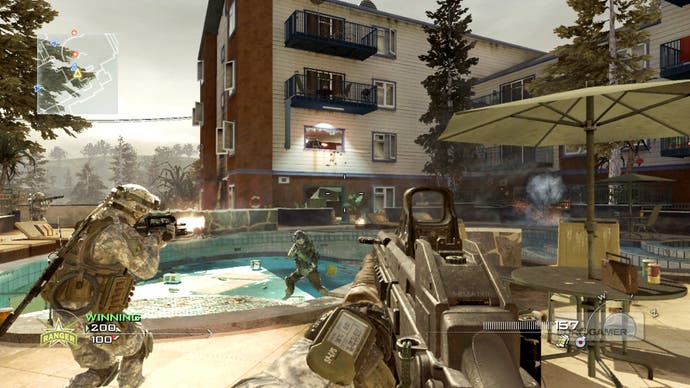 EurogamerWhich part of the Stimulus Package are you most excited about?
Robert Bowling
I'm most excited about Bailout. It takes place in an American apartment complex and it's the most versatile map - it works really well regardless of what gametype you're playing. But there's going to be a large section of our community that are going to love these flashback maps, and it's going to be really cool to see them adapt with all this new equipment and stuff they have in Modern Warfare 2.
EurogamerDo you expect future packs to consist of five maps?
Robert Bowling
We don't really set moulds. What will be in the next one is anyone's guess - it might be the same, it may not. With the Stimulus pack we wanted to add variety and give you a mixture of experiences that you've never played and some that you're familiar with.
EurogamerWill you only add new maps to Modern Warfare 2?
Robert Bowling
In the Stimulus Package, yeah. What happens in the future, we don't know - that depends on schedule. We also do playlist updates and things like that, but we always do that separately.
EurogamerSo we could see something other than an extra multiplayer map added to Modern Warfare 2?
Robert Bowling
I wouldn't want to speculate too much. Our community, I'm talking to them every day, and they'll definitely take something and run with it and get their hopes up. So I don't want to speculate on anything in the future unless I have something hard down on paper that I know we're going to do.