Modern Warfare 2 Kastov 762 loadout, best class build and how to unlock the Kastov 762
A classic that never goes out of style.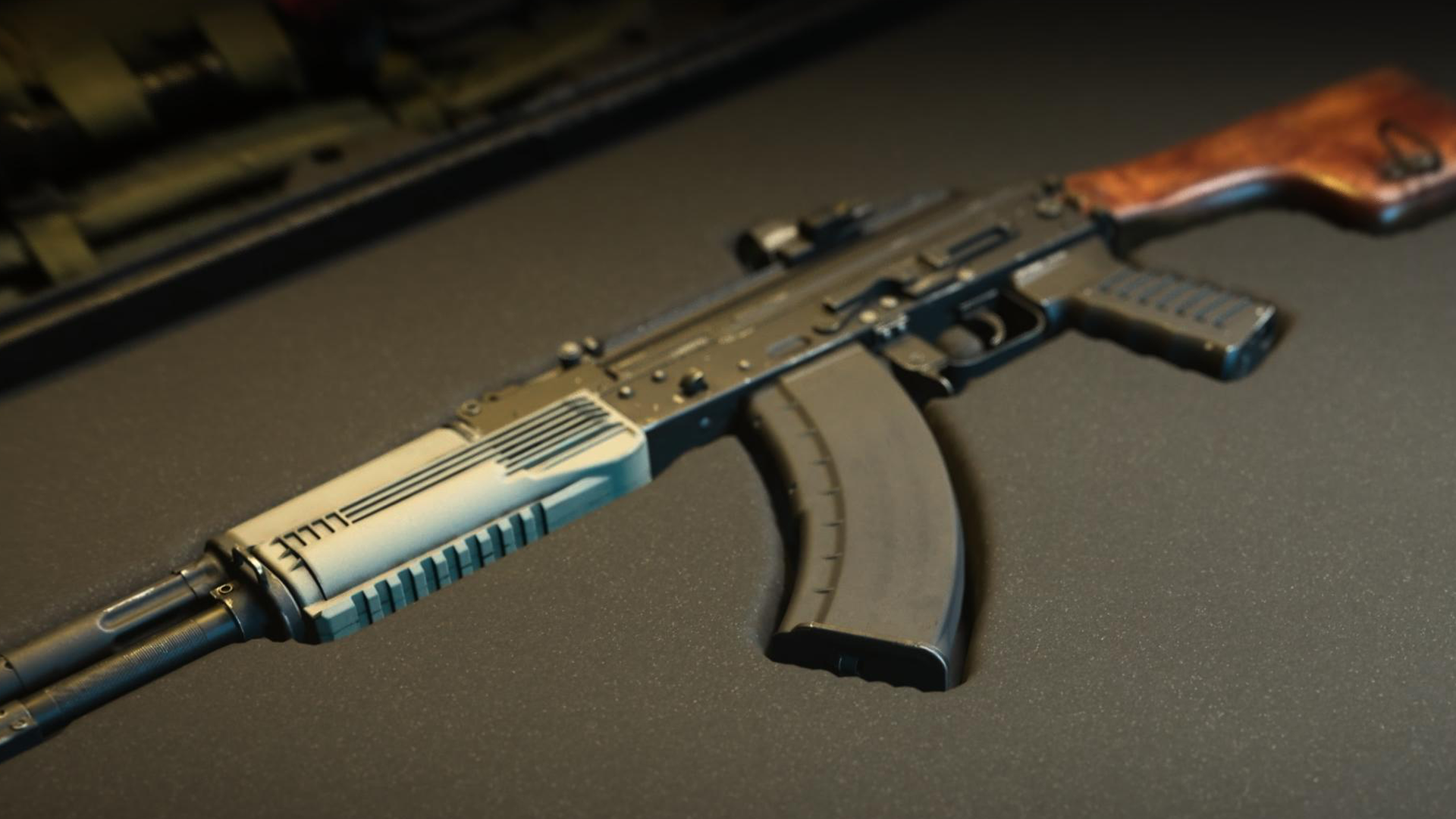 The Kastov 762 assault rifle in Modern Warfare 2 is a key weapon for players on their levelling journey since it unlocks the AK platform.
This gun is Modern Warfare 2's version of the classic and strong AK-47.
This weapon takes a little bit of practice to better handle its recoil which makes aiming a challenge when dealing with farther targets.
So to work around the Kastov 762 strengths, we have prepared this guide explaining what is the best Kastov 762 loadout – listing all the attachments, perks, and equipment you should pick – as well as how to unlock the Kastov 762.
On this page:
How to unlock the Kastov 762 in Modern Warfare 2
If you still don't have this gun in your arsenal, you don't need to worry since getting it is pretty easy.
To unlock the Kastov 762 you need to reach Player Rank 23. You can earn the experience necessary to do so by playing matches and completing daily quests.
Unlocking this gun is fundamental to then access to the Kastov 545 which is also necessary to open other weapons such as Minibak.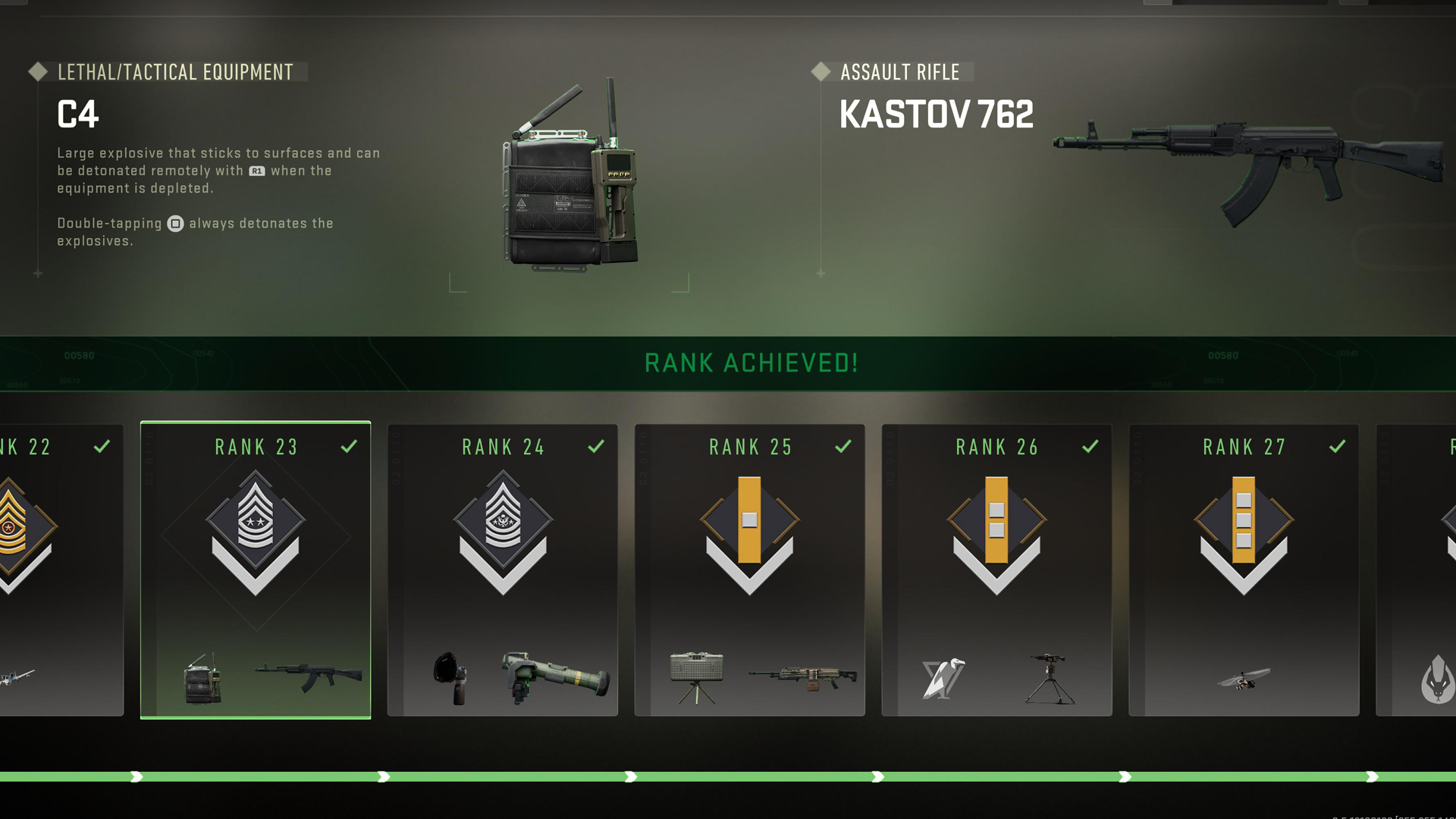 Modern Warfare 2 Kastov 762 best loadout and attachments
These are the best Modern Warfare 2 Kastov 762 loadout and attachments:
Barrel: Kastovia 343
Optic: Cronen Mini Red dot
Stock: KSTV-RPK Factory or Prolite TL3 Stock
Rear Grip: True- Tac Grip
Ammunition: 7.62 High Velocity
Before picking the Katov 762 as your weapon of choice and facing some matches, it's important to know that even though it is an assault rifle this gun is not a good option if you are looking for hitting enemies from afar.
Our approach with this gun is to stay mid to short distance from enemies while moving consistently.
To make it a fast gun to aim and shoot enemies, we begin with the Kastovia 343 as our pick for the barrel slot. While it reduces the gun's damage range, it increases its Aim Down Sight Speed.
On the other hand, to add a little bit of precision we have the Cronen Mini Red Dot.
Picking a stock is a good option to improve your experience with the weapon, but which one depends on what you feel the gun needs.
Go for the KSTV-RPK Factory if you want more Aiming Stability or for the Prolite TL3 Stock if you want more Aim Down Sight Speed.
The True-Tac Grip is the best option considering it adds Sprint to Fire Speed, great for when you are chasing enemies or changing locations.
Picking the 7.62 High Velocity ammunition helps in terms of raising the weapon's Accuracy stat and Bullet Velocity.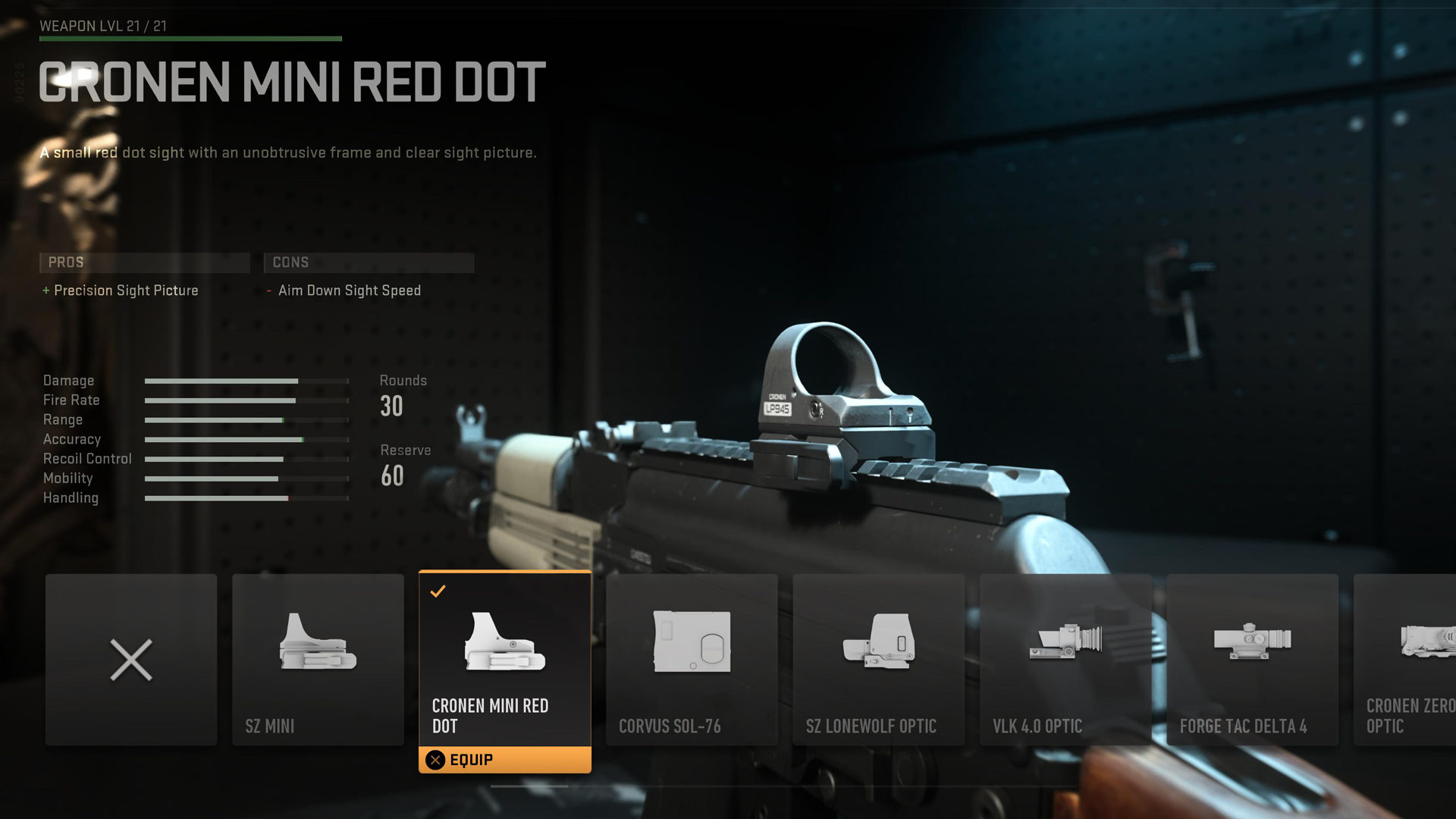 ---
Getting stuck into multiplayer? We explain the best guns in Modern Warfare 2 and how to unlock all weapons and attachments - as well as individual pages on putting together an MP5 loadout, FTAC loadout, M4 loadout, Kastov 762 loadout, SP-R 208 loadout, TAQ 56 loadout, 556 Icarus loadout, Vel 46 loadout, M16 loadout and FSS Hurricane loadout. At launch, you might be wondering where the Battle Pass and Hardcore Tier 1 modes are, as well as how to claim Modern Warfare 2 Twitch drops. Elsewhere, learn how to turn off crossplay on PlayStation and Xbox, get and use Double XP, level up fast, get gold camo, check KD and unlock all MW2 Operators. Playing the story? We have explainers on how long the Modern Warfare 2 campaign is and all safe code combinations.
---
Modern Warfare 2 Kastov 762 best class build, perks, and equipment
Our picks for the best Modern Warfare 2 Kastov 762 best class build, perks, and equipment are:
Basic Perk 1: Double Time
Basic Perk 2: Scavenger
Bonus Perk: Resupply
Ultimate Perk: Quick Fix
Secondary: P890
Tactical: Flash Grenade
Lethal: Drill Charge
Field Upgrade: Portable Radar or Battle Rage
This class build was structured around the concept of keeping running around the map as fast as you can, avoiding wasting time waiting for healing while you always have ammunition and grenades at your disposal.
First, Double Time is essential since it increases the duration of your Tactical Sprint and crouch movement. Since you will always be in movement, Scavenger will allow you to get ammunition from dead bodies in your path.
Resupply replenishes your lethal and tactical charges after every 25 seconds.
Now, you will inevitably face enemies in sequence. So the ultimate perk Quick Fix will increase your survivability by having your health regenerated after killing players.
This build makes it quite rare to find yourself in situations where you run out of ammo for the Kastov 762, so your secondary weapon won't be your main source of damage. Because of that, the P890 pistol is more than enough.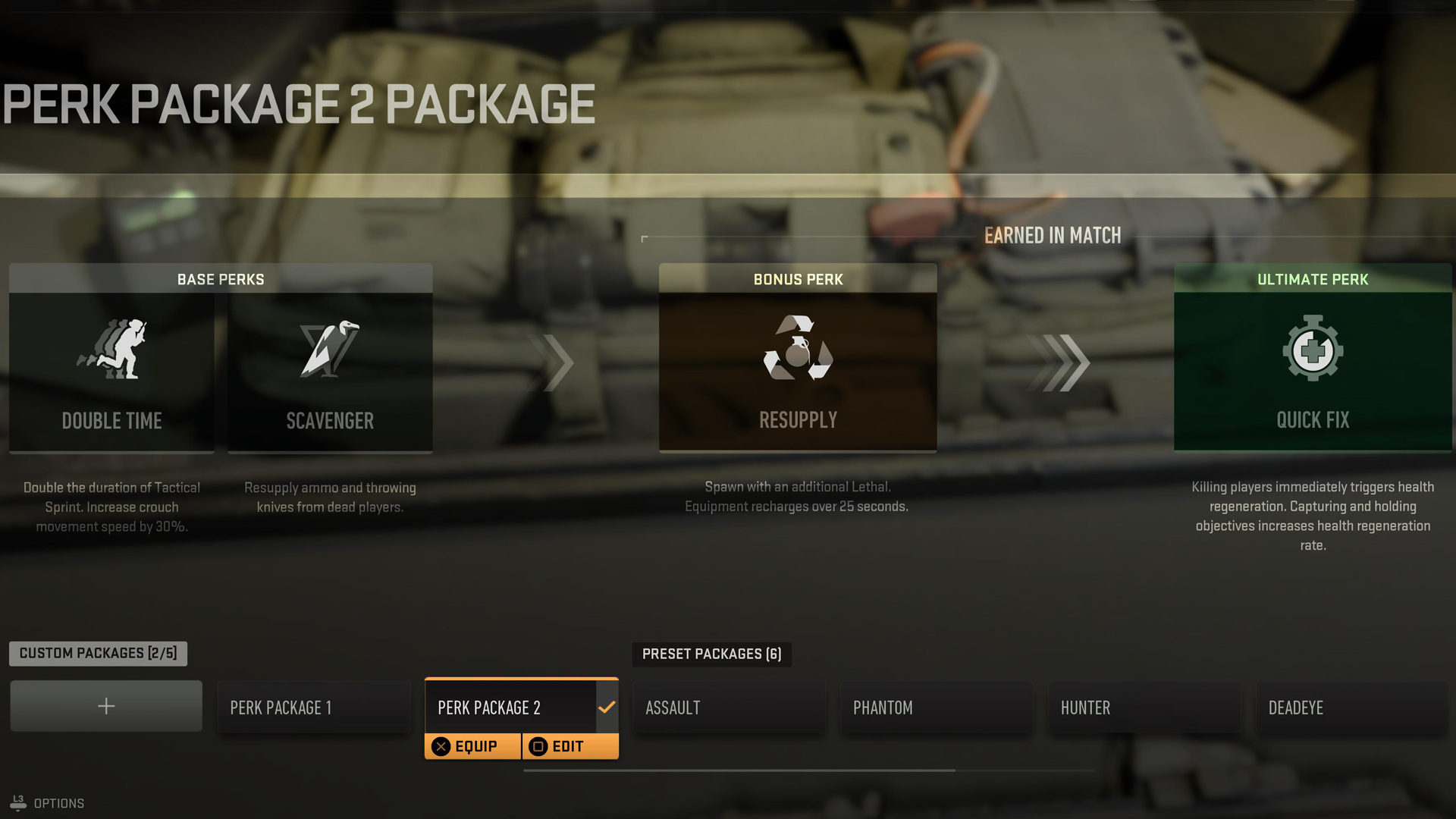 While the Flash Grenade is a good tool to check rooms before entering, the Drill Charge is extremely useful for situations in which you just saw an enemy hiding behind a wall. Both prevent unnecessary exposure.
In terms of field upgrades, the Portable Radar allows you to check the proximity of enemy players, which is great whenever you think you were followed by someone for example.
On the other hand, Battle Rage is a basic option for builds focused on jumping into the action, since you heal yourself and it increases your resistance against Tactical equipment used by others.
The strong and difficult-to-handle Kastov 762 may not be to your liking. If that's the case, be sure to check our page on the best guns to use in Modern Warfare 2 and find out which suits you the best
Want to try something else after getting the Vel 46 up to speed? Our best guns in Modern Warfare 2 explainer can help.