Mobile Games Roundup
Mall! Devil! Rocket! Rope! Trap!
The Last Rocket
iPhone/iPad - £1.99. Universal app.
It was all going so well. Intergalactic war was over, rocket production had ceased, and stellar incineration was about to commence. And just as the bunting was unfurled, a solar flare goes and scatters the ship's memory gears, forcing us into 64 levels of retro puzzle brow-furrowing and chiptune dance routines to stave off the threat of death.
For once, though, it's not a platformer. Despite initial appearances to the contrary, you spend most of your time swiping The Last Rocket through various hazard-strewn rooms, negotiating air currents and conveyor belts and dodging flame jets and inconsiderate spikes.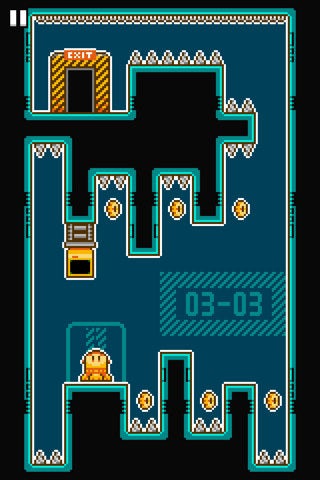 En route to each area's exit, you can make yourself more appealing to future lovers by collecting the optional memory gears that (entirely coincidentally) find themselves in dangerous locations. Getting them is another matter.
Sometimes you have to perform an initial 'pass' across the outline of a memory gear before it reveals itself, but with life-ending danger at every turn, I wouldn't blame you for zooming headlong towards the exit.
Now and then, though, the kleptomaniac within gains control, and you find yourself sweeping with the grace of a conductor, performing death-defying turns and mid-air hovers like you were born to do it.
Suddenly it doesn't seem right unless you're dying twenty times per level in focused pursuit of shiny things against the odds. Would this have happened if The Last Rocket didn't look like it was made 25 years ago? Possibly, but then it wouldn't have transported us into the mind of an excitable eighties teen.
8/10
Cut The Rope: Experiments
Few would disagree that ZeptoLab's Cut the Rope, of all the breakaway mobile phenomena, deserved its moment in the sun. After all, you're going to need plenty of sun once you've got speedboats, mansions and pretty ladies to high five.
Now you're probably casually eyeing up yacht brochures and rush-releasing a self-published sequel in the hope that the desire to feed Om Nom with candy hasn't waned just yet.
The original succeeded through its incessant cuteness aligned to an accessible, yet fiendish, brand of puzzling that - crucially - felt fresh. But with around 200 levels to battle through, it wasn't exactly short of content.
On that basis, Experiments feels more like a straightforward level pack than a bona-fide sequel - and one that most players will blitz through in no time.
The premise (and presentation) remains identical, with the goal based around guiding rope-bound candy into the gaping maw of a boggle-eyed creature, while attempting to collect each level's three stars.
New gadgets such as rope shooters and suction cups add welcome novelty to the level design, but they're not exactly game-changers.
Then again, it's a minimal price for new content for committed fans. The rest of you might want to see how much free content was added to the original before you contribute to the ZeptoLab yacht fund. A worthy cause, I realise.
7/10
Will you support Eurogamer?
We want to make Eurogamer better, and that means better for our readers - not for algorithms. You can help! Become a supporter of Eurogamer and you can view the site completely ad-free, as well as gaining exclusive access to articles, podcasts and conversations that will bring you closer to the team, the stories, and the games we all love. Subscriptions start at £3.99 / $4.99 per month.