Mini Motorways' acclaimed minimalist road-building strategy comes to Steam in July
And a Switch version launches next year.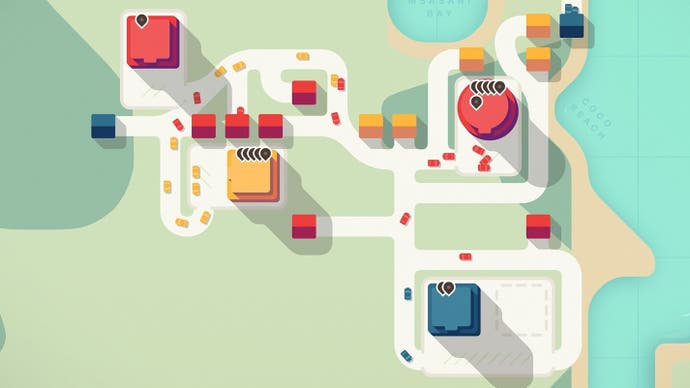 Mini Motorways, the acclaimed road-building strategy sim from developer Dinosaur Polo Club, is coming to PC and Mac via Steam on 20th July, with a Switch release to follow early next year.
If you weren't already aware, Mini Motorways is the follow-up to Dinosaur Polo Club's equally excellent underground railway builder Mini Metro, and, despite its shift in focus, takes a similarly minimalist approach to its tactile strategy action.
This time around, your goal is to construct an efficient road network - traffic lights, bridges, motorways, and all - to ensure commuters can travel from their home to their (same-coloured) destination before the timer runs out. New building items are awarded each in-game week so your ceaseless march of urban expansion may continue, and just like in Mini Metro, things can quickly become as fraught as they are soothingly low-key.
"It's fascinating that a game that feels so similar to Mini Metro should feel so different to play," wrote Christian Donlan of Mini Motorways last year. "To play them separately in extended sessions is to see how simple ideas like connecting people and places are not that simple at all. You can approach them in different ways - and in doing so you will reap different pleasures."
Mini Motorways' Steam debut will herald the arrival of two new maps - Dubai and Mexico City - as well as a new roundabouts feature. These will also be coming to the existing Apple Arcade version at the same time, with "periodic cross-platform updates" to follow.
Mini Motorways will cost £6.99/€8.19/$9.99 USD on Steam, and there'll be a 10% launch day discount come 20th July. Mini Motorways' Switch version is set to release in "Q1" next year.