Minecraft's Nether Update finally makes its hell dimension more habitable
While its mountain upgrade "will happen soon".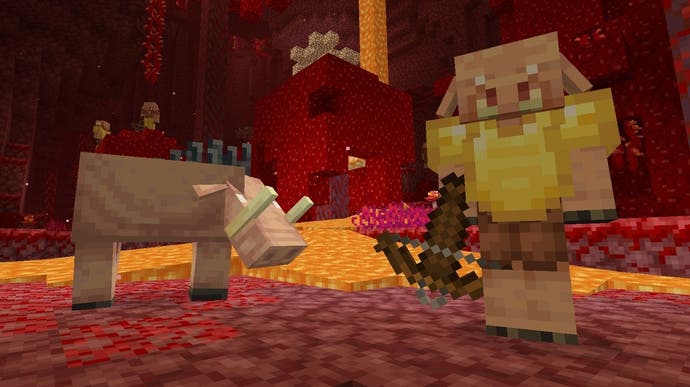 Minecraft now has a tradition of producing big annual updates, and the latest is no exception. Releasing today, The Nether Update is a massive overhaul of Minecraft's hellish underbelly, seeking to convince players to stay a little longer in the dangerous lava-filled caverns. Players can expect to find new biomes, a material stronger than diamond, and communities of Piglins who are open to bartering.
Oh, and it sounds like Minecraft's mountains are likely to get a refresh of their own soon - although details currently remain rather light.
The Nether is an area that's remained largely unchanged since the game's launch, which is why Mojang now feels it's finally time to flesh it out. Ahead of the update's release, some players worried the addition of less-hostile biomes would make the Nether less foreboding. Yet as senior game developer Agnes Larsson told me, the Nether will remain both dangerous and unique.
"We still want it to be quite challenging because it should be different from the Overworld, and the Nether is the place for those who want some challenge," Larsson said. "If we look at the features we added, look at the visuals, the sounds, those are different - but also the mechanics. For example, if you wanted to get food in the Nether, you cannot have a nice quiet little farm where you have your crops. You need to go out and find those Hoglins, and they attack you."
Mojang clearly wanted to give players the option to take a breather in-between intense Nether exploration sessions, however, with the addition of different biomes to "make some areas a bit less challenging." Not many hostile mobs will spawn in the warped forest biome "so you can relax a bit more", Larsson explained.
The update also introduces a few different ways for players to traverse (something that has often been a hassle in the Nether), including the strange-looking Striders which can help players ride across lava pools. Larsson also hopes the addition of vines will help players explore the Nether, although it remains a "very very vertical environment" with limitations on how players can build their way around.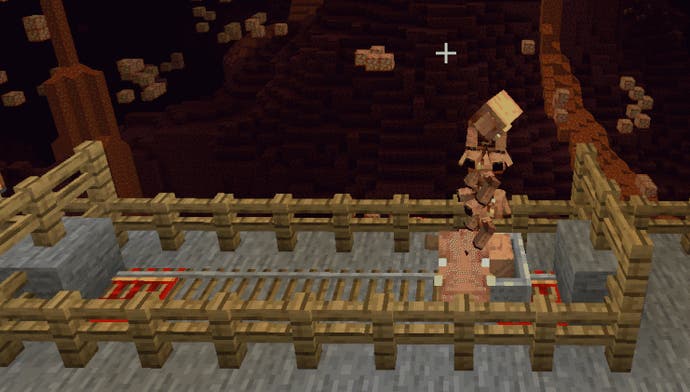 Above all else, the update is about broadening the Nether to various different playstyles, and although it's cliché, there really is something for everyone. To provide challenge for veteran survival players, Larsson highlighted that Netherite, a new tier of material more powerful and durable than diamond, will keep players returning to upgrade their equipment and search for the very rare material, in what Larsson felt was "quite a bold move, but really appreciated by the community". (It also allows you to float in lava and avoid burn damage, which is handy).
For explorers, the new Piglins (goodbye, zombie pigmen) reside in bastion remnants - huge ruined structures that "hint at some kind of history". And builders, of course, haven't been forgotten. The new Target Block - a redstone block which emits a signal strength based on the accuracy of a hit - should allow players to create minigames and various contraptions, while there's a variety of new decorative blocks for players to mess around with.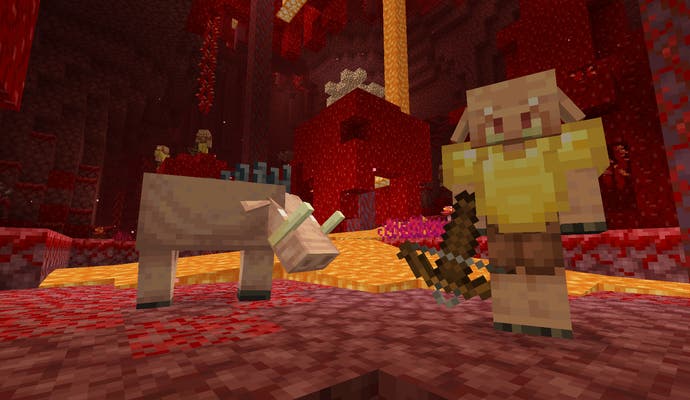 There's no news on whether The End will also be getting a refresh, but something that is on the cards is a revamp of Minecraft's mountains. The biome was prioritised thanks to a Minecraft community during Minecon poll last year, and Larsson said that initial work had already begun.
"Mountains will happen soon, that I can even say now," Larsson said. "We have already started to look into what we're going to do, and started design work on the mountains. The community will hear more about the mountains quite soon."
Judging by the goats that appeared in a poll promo video, it seems like we could be seeing some new furry friends - and quite a bit of snow. For now, however, it's all about the underworld: and I lava bit of that.