Microsoft's bullish response to Sony's PS4 Pro and slim
It's on.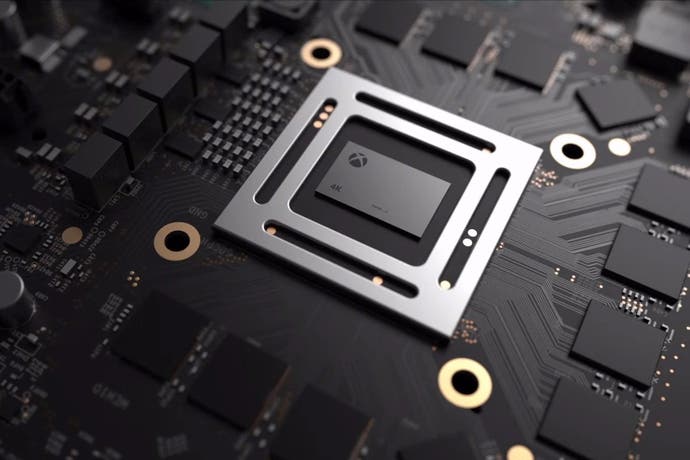 Last night Sony announced the PS4 slim and the PS4 Pro. The slim is pretty much the same as the original PS4, except it's smaller, and the Pro is more powerful than the original. There's a lot more detail in Digital Foundry's in-depth report on the PS4 Pro.
Both new PS4s are set to go up against Microsoft's new range of Xbox consoles. At E3 this year, Microsoft announced the Xbox One S, a smaller version of the original Xbox One, and Project Scorpio, which it bills as the most powerful console ever. That's due out at some point in 2017.
Now Sony has showed its hand, Microsoft has responded, highlighting some of the key differences between the new PS4s and the new Xbox One consoles. Chief among them: neither the PS4 slim or the PS4 Pro play 4K Blu-ray discs.
In a note sent to press after the conclusion of Sony's PlayStation Meeting last night, Microsoft pointed out that the Xbox One S is the only console with a built-in 4K Blu-ray player.
Here's the statement:
"At Xbox, our goal is to put gamers at the centre of everything we do. The new hardware available now and next year was designed with that in mind to give gamers a choice in how they play.
"Starting at £249, Xbox One S is the only console available today with built-in 4K Blu-ray - a value price compared to 4K Blu-ray players. It also offers 4K video streaming plus HDR for video and gaming."
(It's worth noting at this point that Sony will issue an update next week that makes all PS4 consoles HDR capable.)
Microsoft continued by hammering home the point that Project Scorpio will out-muscle PS4 Pro.
"Launching holiday 2017, Project Scorpio is the next member of the Xbox One family and will be the most powerful console ever created with 6TFLOPS capable of delivering true 4K gaming," Microsoft said.
(Last night Sony confirmed the PS4 Pro offers 4.2TFLOPS of power.)
"All Xbox One games and accessories will be compatible with Project Scorpio, including over 100 exclusives like Gears of War 4, Forza Horizon 3, ReCore, Dead Rising 4 and more," Microsoft continued, "with the biggest games lineup ever coming to Xbox One and Windows 10 this year.
"And Xbox gamers have the benefit of Xbox Live - the best multiplayer gaming network - which unites gamers across devices and networks to connect, compete, and have fun."
Xbox has also been quick to big up Xbox on social media.
The console battle is heating up once again, then, as both Sony and Microsoft release smaller versions of their consoles and prepare to launch more powerful versions, too.
While there are still many questions left unanswered about both PS4 Pro and Project Scorpio, what's clear is they've been designed with 4K televisions in mind. But just how popular are 4K TVs right now?
According to ERT Online, cumulative sales of 4K TVs were already heading for the two million mark by June this year, and sales in the second half of 2016 alone should add well over a million more units as prices come down. So, 4K TVs are a long way from being in everyone's home, but they're getting there.
It seems like a good time to compare the cost of all these consoles. The Pro, due out 10th November 2016, costs £349. Microsoft has yet to announce a price for Project Scorpio, due out later in 2017, but most expect it to carry a premium price.
As for the PS4 slim, that costs £259. The Xbox One S is available in three models: the 2TB Launch Edition costs £349; the 1TB edition costs £299; and the 500GB edition costs £249.