Microsoft unveils Phantom Magenta and Arctic Camo Xbox Controllers
A flash flood of colour.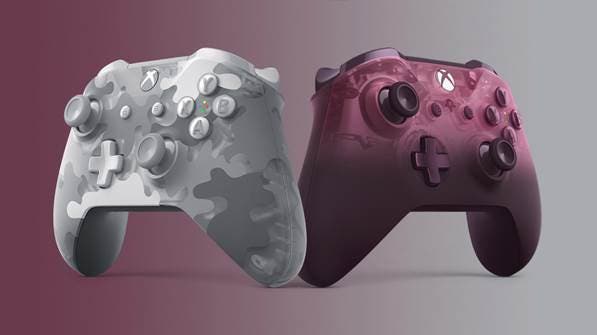 Microsoft has announced two new special edition Xbox Controllers due for release later this year.
First up is the rather threatening-sounding Phantom Magenta Special Edition Wireless Controller. This is (apparently) the third controller to be released in the 'Phantom' series after the White and Black versions.
Like those previous two, it features a strong colour that fades towards the top of the controller to a more translucent design so you can catch a sneaky glimpse of the inner workings. Very sci-fi. It'll be available from 17th March.
The second is the Arctic Camo Special Edition Wireless Controller. This one can be considered as the counterpart to last year's Nights Ops Camo version and is launching a little later in May. If things keep going this way, perhaps we can expect to see a full list of camouflage skins before long!
In terms of features, these two new Xbox controllers are functionally identical to all the rest. You get a textured grip, button mapping and 3.5mm stereo headset jack to plug in any compatible headset. Bluetooth support is included, too, so they can be used on Windows 10 PC, laptops and mobiles as well.
Either of them take your fancy? If you absolutely want to get your hands on one, they're available to order now from a handful of retailers:
Of course, Microsoft has also already confirmed that existing Xbox One accessories will be compatible with the Xbox Series X. So, you can safely pick these up and use them with the forthcoming next-gen console!
On that note, you can find all the info you might need if you're considering an Xbox Series X pre-order at Jelly Deals. We've also got a look at the best deals on Xbox Game Pass Ultimate and best Xbox One external hard drives.