Microsoft shows off nearly two hours of upcoming Minecraft Bedrock Edition for Switch
Is "taking a lot of extra care" with it.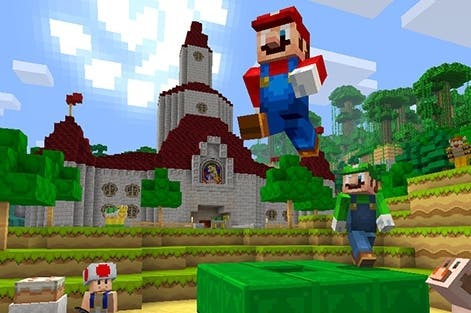 Microsoft has shown off almost two hours of the upcoming Minecraft Bedrock Edition for Switch, demoing some of its new features and improvements in a recent livestream.
Minecraft Bedrock Edition is, of course, Microsoft's new unified, cross-platform version of the hugely popular block builder, and is already available on Xbox One, Windows 10, and mobile.
According to Microsoft, the core development of Minecraft Bedrock Edition for Switch (which will be free to all existing Minecraft owners on the console when it releases) is "mostly done", and the team is now focussing on final overall quality improvements.
In the livestream, Bedrock producer Justin Woods acknowledges that the "Xbox [version] could have cooked a little longer" before it was released last year, and that the studio doesn't intend to make the same mistake twice: "We are really taking our time with Switch".
Specifically, the team is "taking a lot of extra care [...] with trying to make sure that this launch is really smooth, that the world conversion system works really well for people, and that migrating over from Editions [...] is an easy transition for you to make".
And certainly, based on the footage shown during the lengthy stream (which doesn't really get underway until the 30 minute mark, so you might want to skip ahead), the new Switch version of Minecraft looks to be an improvement on its predecessor in several technical areas. It appears to run at a pacy 60fps in both docked and handheld mode, and Microsoft says that the current build is able to display 14 chunks of the game world at a time.
That's substantially more than the 6 chunks viewable in handheld mode in the currently available Switch Edition, and a slight improvement over docked mode too. Chunks load quickly with a gentle fade-in transition, and the overall impression is of a smoother, far less claustrophobic experience on the console - the complex Super Mario Mash-up Pack map, which features heavily in the livestream, benefits greatly from the improved draw distance.
Elsewhere in the video, there's a look at a range of Bedrock features working on Switch - such as the new store front - and confirmation that you'll need a Microsoft account to play online with people on other platforms, but not with fellow Switch players.
The video also shows off a little of Bedrock's new touchscreen support for Switch's handheld mode. Touch can be used for inventory management, to navigate menus, and for typing with the on-screen keyboard when searching and chatting - which is certainly welcome.
Microsoft says that Minecraft Bedrock Edition should release on Switch "soon". Hopefully its various improvements will help bring the much-maligned Bedrock version closer to the older, more refined legacy console editions.