Microsoft details £90 Xbox wireless headset
Hear's the details.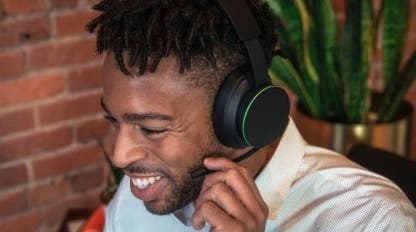 There's a new wireless headset from Microsoft that launches on 16th March priced £90/$100 (or £85 at Amazon).
The Xbox Wireless Headset is designed to deliver "long-lasting comfort" and "customisability", Microsoft said.
As you'd expect, it is designed to work anywhere you can play Xbox games: on Xbox One, Series X/S, Windows 10 PCs and mobile devices. Here's a snazzy trailer:
The headset uses Bluetooth to connect to your console, PC or mobile device, just like the newer Xbox wireless controllers. You can also pair it to multiple devices, so use it to hear your game audio while still paired to your PC for a work Teams call.
You can fine-tune the headset's settings via the Xbox Accessories app on any Xbox or Windows 10 device, play around with audio and microphone sensitivity, and even adjust the brightness of the mic's mute LED. Battery life depends on various factors, Microsoft said, but expect to get four hours of use from a quick 30-minute charge and up to 15 hours charge total when not in use.