Microsoft announces native Xbox One-360 back compatibility
UPDATE: Saves transfer via cloud. Small Preview list of games shared.
UPDATE: Microsoft's tech people confirmed to Eurogamer at E3 that Xbox 360 save files will transfer to Xbox One via the cloud. Old games you don't own will also be available to buy further down the line.
The small list of Xbox 360 games compatible with Xbox One in the Preview programme was shared.
Banjo Kazooie: N n B
Banjo-Kazooie
Banjo-Tooie
BattleBlock Theater
Defense Grid
Geometry Wars Evolved
Hexic HD
Jetpac Refuelled
Kameo
Mass Effect
Perfect Dark
Perfect Dark Zero
Small Arms
Super Meat Boy
Toy Soldiers
Toy Soldiers: Cold War
Viva Piñata
Viva Piñata: TIP
ORIGINAL STORY: Microsoft has stunned its E3 conference audience by announcing native backwards Xbox 360 game compatibility on Xbox One.
The service launches for everyone this holiday - autumn - but Xbox Preview members can test it now.
It will be free and launch with support for 100 titles. Hundreds more titles will be added after that. All developers need to do is approve the game's backwards compatibility - no extra development is needed.
Digital games will show up automatically in your library on Xbox One, or you can put your retail disc in and verify ownership that way.
Xbox One media features will be available to use when playing the older games. Microsoft demonstrated Mass Effect 1 running in backwards compatibility.
Microsoft rounded off the announcement with a quip about not charging you to play games you already own - a thinly veiled dig at Sony and its PS4 remasters of PS3 games.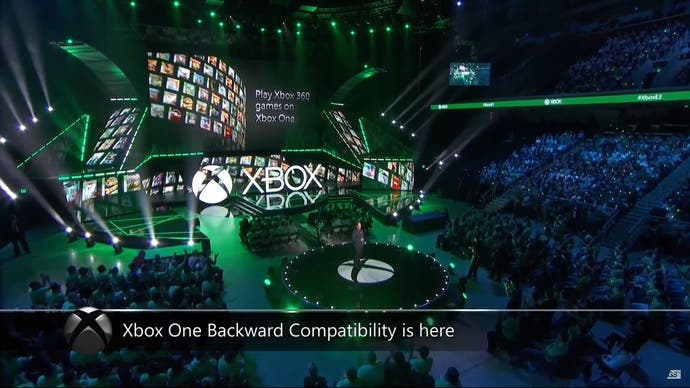 Watch the moment Microsoft unveiled backwards Xbox 360 game compatibility on Xbox One in the video below.