Mass Effect
Science friction.
Once you really get to grips with what Mass Effect wants from you, it all slots into place brilliantly. You've essentially got the option to go off and do all these little non-essential sub-missions in various far-flung corners of the galaxy, or check out your journal and see where to head to next. Once you've set your course, you generally get dropped into the planet in your six-wheeled Mako vehicle, drive around for a bit and blast any Geth you come across.
Feeling like a Halo out-take, it's all a bit counter-intuitive to control (and liable to make the camera freak out if you go places it doesn't like), but with a built-in cannon and machine gun, it's often a whole lot easier and more effective to take out massive turrets and rocket-wielding Geth troopers than trying to do it on-foot. Quite often, though, you don't really have a choice, and you'll be forced to get out and take the fight to the Geth, bypassing security, opening gates or going into buildings.
As you might reasonably expect from a game with RPG leanings, the more you play it, the more fun it becomes. Your weapons get better, more accurate, less wobbly, more heat resistant, and enemies become correspondingly more challenging. From the rather rubbish initial encounters, the whole thing becomes far more involving, and the more you level up, the more you want to see how far you can go - even to the point of taking on the sub missions you'd previously overlooked.
Helping hands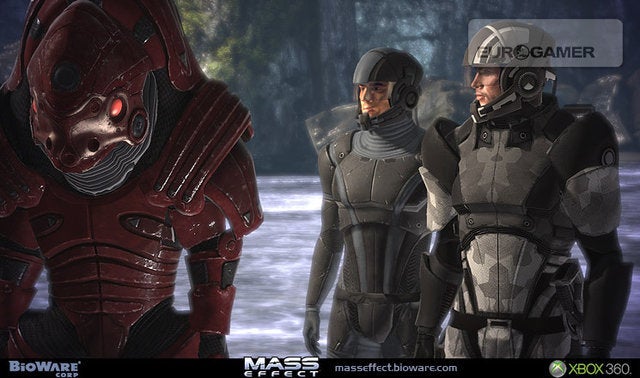 In tandem with this is how much you start to care about the characters you take out with you. Without realising, you'll spend time tinkering with their loadout to make sure they've got the best equipment possible, ensuring that each has it own upgrades. And rather than just being mildly impressed at how pretty the game is, each new planet offers its own specific visual treats - some of the artwork must surely among the best we've been treated to. The facial detail is also, at times, absolutely wonderful, and adds no end to keeping you immersed during all the narrative segments. In terms of raw atmosphere, Mass Effect is a game that will really get under your skin - not just in the way that it creates a true sense of place to the locations, but in many other ways, notably the way the excellent soundtrack from Jack Wall adds greatly to the sense of drama as it unfolds. As with a lot of big-budget games of late, the efforts that have gone into making the whole thing as grand and cinematic as possible haven't gone to waste. Mark Meer as the male Shepard, Seth Green as Joker and Kimberly Brooks as Ashley are just a few of the voice-over highlights of a uniformly high quality effort from the cast.
That said, there's a feeling that BioWare was a little too ambitious for its own good at times. Some of the frame-rate issues, while not crippling, are certainly wince-worthy enough to make you wonder whether the game is truly ready. Halo 2/Gears of War-style texture pop-in is also rife throughout, and perhaps shows some the limitations of the 360 not having a hard disk as standard. Also, as has been pointed out elsewhere, just why are the lifts so sloooooow throughout this game? The loading times aren't exactly bad in general, but sometimes the way you have to wait for mundane things like that to happen are strange, to say the least - not to mention boring. Also, what happened to the AI? Most of the time it's just plain dim, just standing around waiting to be shot, or charging idiotically at you. There's never the same feeling of satisfaction when you find yourself cutting a swathe through the hordes with barely any effort.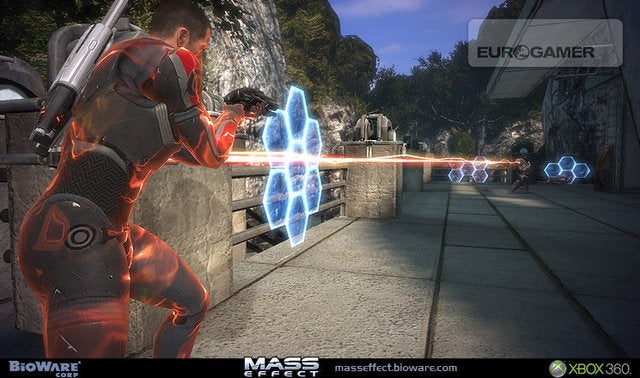 Forced to stumble towards a conclusion, I'd say that despite the niggles, Mass Effect is most definitely a great game with an awful lot going for it - but one that doesn't quite deserve unquestioning praise. For what it achieves in delivering a compelling narrative and wonderful atmosphere, BioWare deserves a huge amount of credit, as there are few games that come anywhere near it in this regard. The dialogue system, and the impact it has on individual missions and the game as a whole is exceptional, adding greatly to the potential replay value. Where it doesn't quite hit the mark for me is in the action stakes. Although it underpins the game with all sorts of excellent ideas that ought to make it a deeper, more intelligent and immersive experience, the simple truth is that the minute-to-minute combat simply isn't as intense and involving as you'd expect from a game in 2007. Throw in some grumbles about the somewhat unoptimised state of the frame-rate, texture pop-in and v-syncing terrors, and it's a game that just falls short of our expectations. An eight, then, but a good one...
Will you support Eurogamer?
We want to make Eurogamer better, and that means better for our readers - not for algorithms. You can help! Become a supporter of Eurogamer and you can view the site completely ad-free, as well as gaining exclusive access to articles, podcasts and conversations that will bring you closer to the team, the stories, and the games we all love. Subscriptions start at £3.99 / $4.99 per month.