Mass Effect
Science friction.
So, with standard two-stick, third-person controls, it's all pretty easy to get to grips with from the off, but with a couple of tweaks here and there to differentiate it from the standard run-and-gun action fodder. One thing you'll immediately note in among all this gun-toting is that all of your weapons have unlimited ammo, but with the trade-off of having to keep a close eye on the weapon's heat dissipation. With the lower-level weapons, in particular, you can't just wander around spraying bullets and expect to get away with it, so combat turns into a game of fire and retreat, as you learn to adapt to firing in steady, careful bursts. If you don't, your weapon becomes completely unusable for ten seconds or so - often with dire consequences if an enemy is charging at you.
Your arsenal
Another noteworthy design decision is the fact that you can carry your entire arsenal at once, but can only quick-select two. If, say, you decide you want to switch to a shotgun, then you have to hold down the left bumper, and this pauses the action, brings up a weapon selection ring and enables you to make an instant call on not only your own currently selected weapon, but your two squad-mates as well. More significant, though, are each character's special abilities, which you can select in the same way from the game's 'Power Wheel', which is accessible from the right bumper. Shepard, for instance, can make himself invincible for a few seconds, or revive downed team mates with his Unity ability. Every time you select an ability, it recharges over time, so you have to pick and choose the right time to pick one. Alternatively, the game lets you get by just fine without it, and your squaddies can be left to decide for themselves which ability to use and when. Again, your call - there's no real penalty to not micro-managing every combat situation, but it's there as an option if you want it.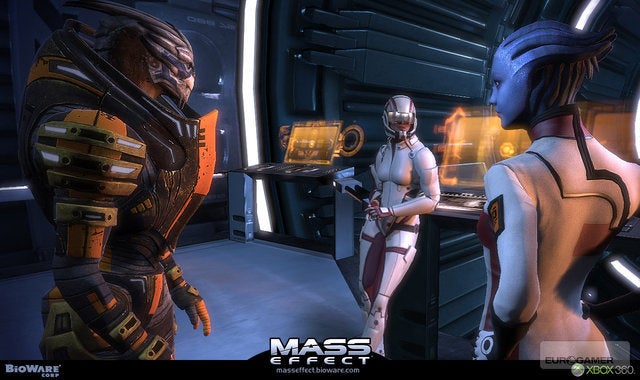 Likewise, the game's experience system offers a great deal of choice over whether to distribute talent points whenever you level up, or leave the game to do it for you. For those of you that demand full control over each and every character's abilities, that's an option, or if you just want the computer to handle the AI but leave you to look after Shepard's development, that's possible too. Either way, the game rewards every kill and significant deed with XP, and, in time, your abilities across multiple disciplines will rise - both in combat terms and how successfully you're able to interact with the game's many NPCs.
As you'd expect from a BioWare title, character interaction is a massive part of the game, and helps give the game a far greater narrative depth than practically anything else on the 360. The new, refined dialogue system isn't quite the one that was described to the press during development, but nevertheless allows you to seamlessly and intuitively build up a conversation based on your overall attitude. For instance, the choices are usually based around being cooperative, middle of the road or hostile and intimidating, and the path you take during these chats can either work for or against you. There's often no right or wrong thing to do, ultimately, but your choices contribute towards your paragon or renegade ratings - with Achievements for being extreme in either direction.
Skip to the end...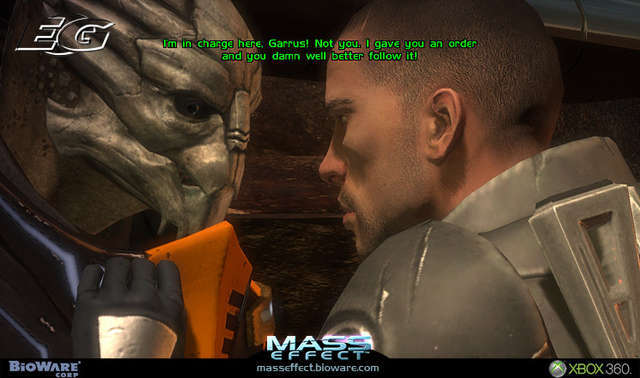 While it's true that conversations can drag on a little bit when compared with your average videogame, the more you involve yourself in the events and actions in the game, the more you start to enjoy the characters in the game, and the less you resent having a little natter. A little investment of time in the Mass Effect world goes a long way, as it starts to erode the resistance you might have towards the cast, the storyline and the serious tone of the whole thing. Possibly the biggest mistake is that the game tries to throw you into that world too heavily too soon. For example, putting you in the confusing labyrinth of the Citadel early in the game doesn't help draw you in at all, with far too many non-plot-based missions offered to your before you've got a real handle of what the main game's all about.
You can literally spend hours just wandering around the central Citadel 'city' before it even dawns on you to get on with the main quest - and with so many characters to interact with, you may feasibly only have spent about 15 minutes of the first few hours of the game firing a gun in anger. With a bit more prodding from the game to move things along, it would have definitely helped draw more people into what it's really about, rather than just leaving you to your own devices, trudging around a space city chatting. As useful as the menu (and map) system becomes, at no stage does BioWare stop to explain this to the player. Players of lesser patience would surely give up, and that's a shame.
Will you support Eurogamer?
We want to make Eurogamer better, and that means better for our readers - not for algorithms. You can help! Become a supporter of Eurogamer and you can view the site completely ad-free, as well as gaining exclusive access to articles, podcasts and conversations that will bring you closer to the team, the stories, and the games we all love. Subscriptions start at £3.99 / $4.99 per month.