Mass Effect official Twitter inadvertently highlights face "bug"
BioWare acknowledges moment has become "lightning rod".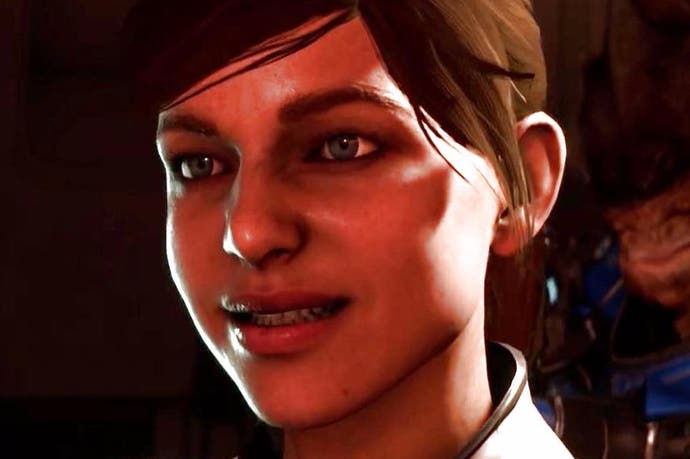 Remember that moment in the last Mass Effect Andromeda trailer, when Sara Ryder disarms a turian but also sort of looks like she's stifling a sneeze?
Out of everything in the five minutes of footage, that particular moment was picked out by fans and widely criticised - on Twitter, Reddit, NeoGAF, and more.
So it was odd to see the official Mass Effect Twitter account revisit the moment, turn it into a GIF and broadcast it to its 600,000 followers yesterday evening:
I thought it was a strange thing to highlight - and so, it seems, did BioWare general manager Aaryn Flynn, who retweeted the official marketing message to apologise for the bug it shows.
Sara Ryder is awesome. Strong, funny, and adventurous. Sorry there's a facial performance bug that lets her down here. We'll improve it https://t.co/esUaI4aFTJ

— Aaryn Flynn (@AarynFlynn) January 3, 2017
In one response to a fan, Flynn acknowledged the moment had unfortunately become a "lightning rod" for continued criticism.
Flynn, game director Mac Walters and producer Mike Gamble all addressed the animation issue within hours of the trailer going live at The Game Awards back on 2nd December. Each assured fans that Andromeda's facial animations were still being worked upon as part of BioWare's final round of polish.
Why would BioWare highlight a moment that has caused it so much grief? It's likely the official Mass Effect account is operated - at least in part - by EA's own marketing machine. That's the same EA marketing machine which, over Christmas, accidentally revealed a little more than intended in the reflection of a bauble (yes, really) while promoting Madden. EA's marketing division was also criticised for its #justWW1things hashtag used to promote Battlefield 1 in October, for which the company later apologised. Perhaps whoever created that GIF hasn't been on NeoGAF lately.
In happier news, BioWare has a brand new Mass Effect Andromeda trailer due to be released this evening, as part of CES 2017's opening keynote. We're expecting it to drop around 6pm UK time. Here's hoping we finally see a release date...