Marvel vs. Capcom Origins announced with debut trailer, screens
PSN and XBLA update of Marvel Super Heroes and MVC1.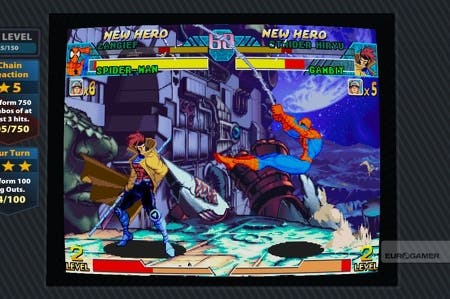 Capcom has announced Marvel vs. Capcom Origins, due out on PlayStation Network and Xbox Live Arcade in September 2012.
It bundles together nineties fighting games Marvel Super Heroes and Marvel vs. Capcom: Clash of Heroes, complete with a HD lick of paint.
Both games feature GGPO-enhanced online play, with eight-player lobbies, spectator mode, HD graphical upgrades, in-game achievements and replay saving.
On Xbox it costs 1200 Microsoft Points. On PSN it costs £11.99 / €14.99 / $14.99 / AUD23.95.
2D fighting game Marvel Super Heroes first launched in Japanese arcades in 1995, before being ported to the Sega Saturn and PSone two years later. Marvel vs. Capcom: Clash of Super Heroes succeeded it in 1998.