Mafia 3 Definitive Edition in first-person VR is a R.E.A.L. trip
Watch Ian cause havoc in New Bordeaux in this week's VR Corner.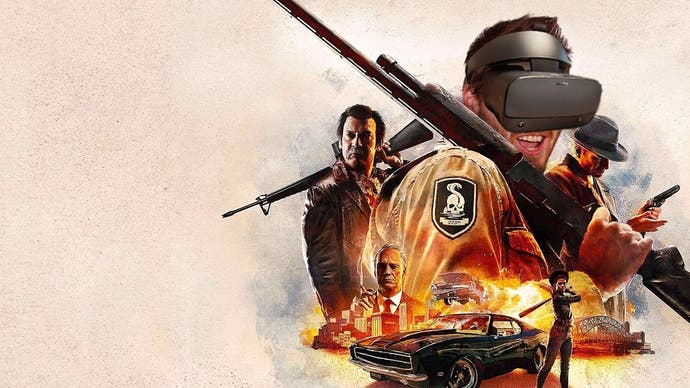 Big budget VR releases may have been few and far between recently, but here in VR Corner, I've been living the dream thanks to the wonderful work of talented modders such as KITT and Praydog.
These utter champs have been putting AAA software houses to shame by showing us just how good certain flat releases could look, if only their developers took a bit of extra time to add VR modes to their games.
The most prolific flat-to-VR modder of recent times though, has to be Luke Ross whose work I've featured on VR Corner multiple times.
In today's VR Corner, which you can watch below, I take a long look at Luke's brand new mod for Mafia 3: Definitive Edition that not only adds VR to the game, but also an optional first-person viewpoint.
Realistic nipples, hungry alligators, ferocious shootouts and a very bumpy ride around a roundabout are just a few examples of some of the things to look forward to, so if you want to see what the city of New Bordeaux looks like through the eyes of Lincoln Clay, look no further!
Just like Luke's previous R.E.A.L. VR releases, his mod for Mafia 3: Definitive edition does not support motion controls. This means you will need to play the game with a controller but aside from that it's still a very immersive experience.
This is mainly thanks to an optional first-person viewpoint that Luke has added to the mod, which lets you easily switch the view in order to go face-to-face with all your enemies. You can of course still experience the gameplay from the original third-person perspective if you'd like but I preferred to stick with first-person.
While I find first-person VR way more immersive than third-person, you will notice in the video above that this does come with some problems. This mainly involves Lincoln's character model, which occasionally pops into view as an animation plays out. This is especially noticeable whilst driving as Lincoln's idle animations cause him to sway forwards a lot, but it also happens regularly when picking up items or hiding behind cover. It's a bit jarring the first few times it happens as it kind of feels like you're vomiting out your own ghost, but its something I got used to it pretty quickly.
Aside from that though, this is another fantastic example of how a previously flat open-world can be given a fresh new lease of life with VR. Once you've gotten past the rather linear opening chapters of the game, you're given free-rein to explore New Bordeaux and it's at this point that you can full absorb yourself in the world and go on little sight-seeing missions around its different districts.
If you'd like to experience this mod for yourself, you'll need to be a paid supporter of Luke's patreon in order to access it, but doing this will also give you access to all his other mods as well.
If you enjoyed this episode of Ian's VR Corner, you can catch up with my previous adventures over on YouTube in our VR playlist, where I've covered Valheim VR's motion controls mod, Doom 3 VR Edition and everything we know about PSVR 2 so far. You can also read our list of the best VR games.