Lumines Remastered will turn your Switch JoyCons into trance vibrators
Keep on Shinin'.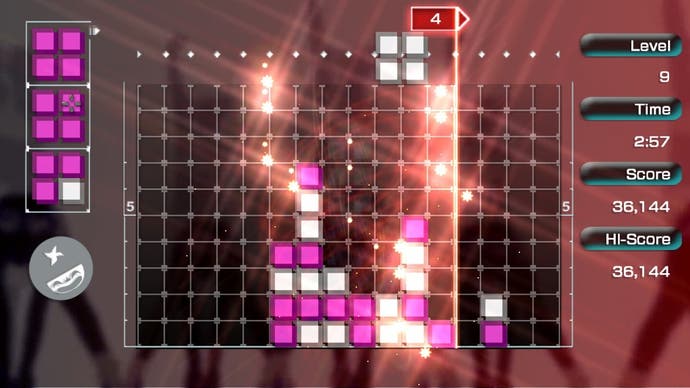 Lumines, Tetsuya Mizuguchi's brilliant music-infused puzzler, is coming to Nintendo's Switch this spring - and it will include the ability to turn your JoyCons into Trance Vibrators.
It looks set to be a remastered version of the PSP original, first released in 2004 by Q Entertainment, the studio Mizuguchi founded in 2003. The former Sega producer has had a varied career since, leaving Q Entertainment in 2012 and taking up the role of a professor before returning to games in 2015 with his new company Enhance Games and, in 2016, releasing Rez Infinite on PlayStation 4 and PlayStation VR.
Enhance Games is behind Lumines Remastered, and the new game looks to recreate the PSP original on new hardware. That means enhanced visuals, of course, but on the Switch it also means the resurrection of one of Mizuguchi's more notorious innovations - the trance vibrator, which debuted alongside the PlayStation 2 version of Rez. By turning on Trance Vibration, you can sync a number of JoyCons and place them around your body in order to feel the music, if that's your kind of thing.
Lumines Remastered is coming this May, with versions also planned for PlayStation 4, Steam and Xbox One to release alongside the Switch version.