Horizon Zero Dawn's Aloy headed to Fortnite
UPDATE: Guerrilla marketing confirmed.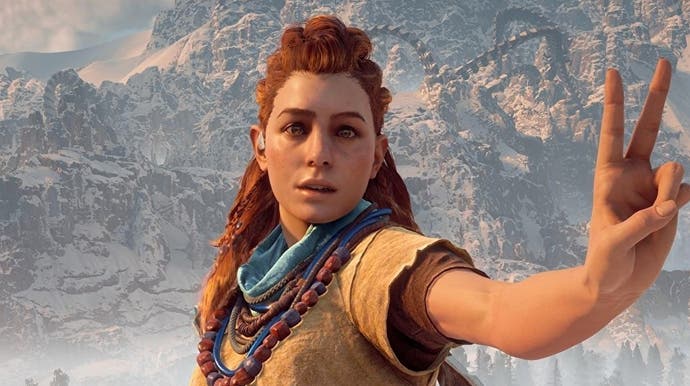 UPDATE 2pm UK: PlayStation has now confirmed its Fortnite and Horizon Zero Dawn collaboration, and revealed our first look at Aloy hanging out with Fishstick: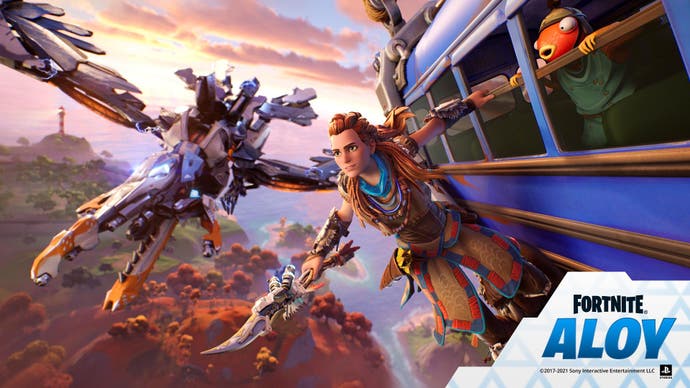 Aloy will appear in the Fortnite item shop this Thursday, 15th April, alongside various other accessories. There will also be a bundle including all of the items, which features the loading screen art above.
The character has a second style themed around Horizon Zero Dawn expansion The Frozen Wilds as an exclusive for PlayStation 5 players, in the same way PS5 owners can unlock a second style for Kratos, and Xbox Series X players got an exclusive Master Chief style.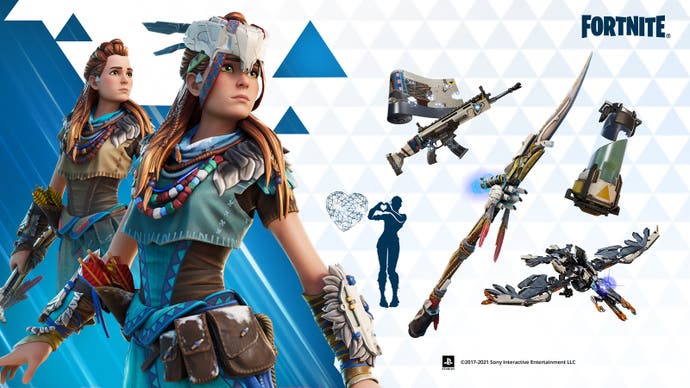 The Aloy and Lara Croft limited-time mode will arrive this Friday, 16th April. It's a two-person mode where you and a partner will play as the two characters. Fittingly, only bows and dual pistols will be available.
---
ORIGINAL STORY 11.45am UK: Horizon Zero Dawn star Aloy looks set to join Fortnite soon for a crossover mode with Lara Croft.
Files relating to the PlayStation favourite have been uncovered in the game's new v16.20 update, released today. These include word of an upcoming limited-time mode featuring Aloy and Lara focused on looting animal parts and tech.
Details of the mode were spilled online by various reliable Fortnite leakers, including ShiinaBR and Hypex:
Strings from the new LeadAlloy LTM:

"Team Up! Aloy & Lara"

- "Use loot from wildlife and technology to upgrade your weapons"
- "All Weapons can upgrade to legendary quality"
- "Keep an eye out for wildlife, you never know what might be lurking in the bushes"

— Shiina (@ShiinaBR) April 13, 2021
The mode sounds like it will feature an increased number of animal spawns and the ability to upgrade any weapon to the game's top legendary tier, regardless of the usual restrictions.
This Fortnite season has a primal theme and features several Lara Croft variants as part of its battle pass. An Aloy skin now also seems inevitable, though likely currently lies encrypted within Fortnite's files.
Fortnite recently brought in fellow PlayStation mascot Kratos from God of War, so this is hardly unprecedented - but it's still another big name from gaming to get the nod, and will of course mark Aloy's debut in a game on non-PlayStation consoles.
Who next, in this primal season? Bowser?