Lonely Mountains: Downhill ventures to volcanic Eldfjall Island in its first paid DLC
Coming to PC, Xbox One, PS4, and Switch soon.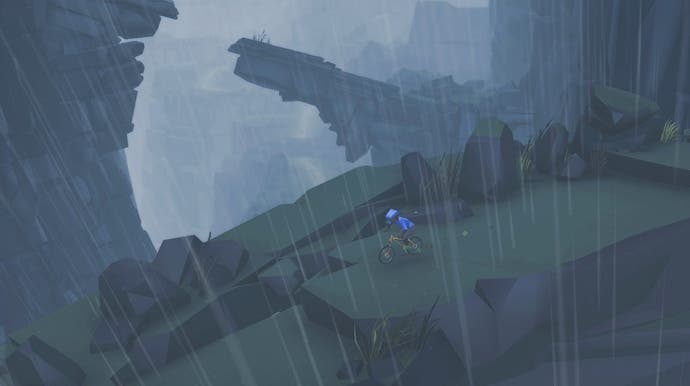 Developer Megagon Industries' wonderfully serene (and devilishly infuriating) mountain bike adventure Lonely Mountains: Downhill will be peddling its way to more perilous climes soon, courtesy of its newly announced Eldfjall Island paid expansion.
Eldfjall Island takes the compelling, frequently zen-like, route-finding and time-tweaking core of Lonely Mountain: Downhill's base game and transplants it to a deadly new setting. Here, players can tackle four new trails, which spice things up with the likes of thunderstorms and an erupting volcano, and introduce their own challenges and resting spots.
Additionally, Megagon promises more unlockable outfits, helmets, and paint jobs (plus a new pro helmet), and there are unlockable backpacks this time too.
Lonely Mountains: Downhill's new Eldfjall Island expansion will be making its way to Xbox One, PlayStation 4, Switch, and PC (a Steam page is now live) "soon". What's more, Megagon co-founder Jan Bubenik has also revealed that an accompanying free update will add a number of new - albeit currently undisclosed - features to the base game too.
Lonely Mountains: Downhill was, of course, named one of Eurogamer's favourite games of 2019, so the promise of even more Lonely Mountains: Downhill can only be good news.